Just days after the release of her new single, "Phoenix," Billboard featured JESSENIA as a "Rising Latinx Artist." It's an accurate depiction of the singer/songwriter who has collaborated with artists that include 50 Cent, Fat Joe, Trey Songz, J Alvarez, and Alexis y Fido, among others. Her impressive social media following (which reaches over 3.3 million) once earned her a spot in Forbes, where she was noted as one of the "15 Top Instagram Influencers You Should Follow."
In her new EP, Phoenix, JESSENIA mixes playful pop with a whole lot of love and honesty. She lyrically lays it all out, arcing a touching story (inspired by real-life events) within four catchy songs.
"I've always been a fan of music," JESSENIA tells INLOVE Magazine. "As far as I can remember, there are even videos of me performing in front of my family. Music was always an outlet of feeling emotions, an expression of art through song and nostalgia. It wasn't until 2012 that I dove into music. I was offered a SONY single deal, but unfortunately, we couldn't agree on some terms of ownership and contract, and it never happened. That single is out now; however, the track 'In Love With The DJ,' we released it last year and updated the track to sound modern. It was premiered by Pauly D on one of his live performances. Ever since then, I have been working with various writers and producers trying to find the right direction for my music. After so much overthinking, I took J Balvin's advice and decided just to put out content. Hence my first single in 2018. It's been nothing but creating ever since."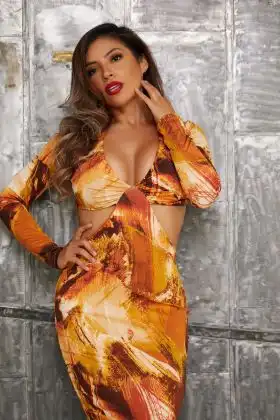 Sari: What serves as your greatest inspiration?
JESSENIA: For me, it's always been taking personal experiences and journaling it into song. It serves a form of therapy and also brings solace knowing that someone out there, feeling exactly how I felt, can find comfort, hope, or understanding in one of my songs. It's women like Mary J. Blige, Alanis Morissette, and Melissa Etheridge, whose music touches and moves me. They tell their story through song and, in the process, help so many in different ways.
Sari: Tell me more about your new EP and the story behind it.
JESSENIA: This EP was conceptualized back in December. I remember looking at my partner/co-writer at the time and saying, I want to close all those chapters in my life from my previous break-ups and let go of the pain, create my own form of closure. The creative process was very therapeutic for me. It had me realize one common denominator; I didn't love myself enough. When we wrote "Phoenix," it never came to our minds that we would end our relationship in the months that followed midway through the pandemic. Ironically, that track, which is the name of the EP too, reflects my present state. Currently, I'm working on myself, on letting go of that last piece of me that I held onto for so long, because I was scared to change, or too lazy to put in the work. But now, just like the Phoenix, I am rising through the ashes and born again. It's all been a 360. It's crucial in my healing and growth as a woman who is learning to love herself full-heartedly.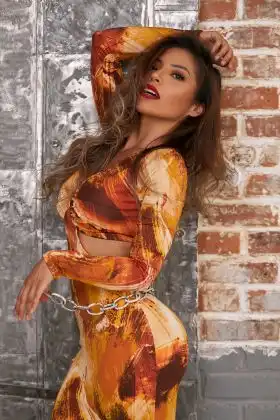 Sari: What's next for you?
JESSENIA: I'm working on new music. I definitely would like to work on an EP, but in the meantime, you'll hear more singles. I'm also in a feature film that comes out in 2021. It's been a lot of fun diving back into acting. It's something that I stopped doing after coming out of an abusive relationship many years ago. I'm working on something presently, non-related to music or film, but it's something to give back and help others. I want to use my page for more than just personal and professional growth. I want to be able to give back and help as many people as I possibly can.
Sari: What are five fun facts about you that you can't Google?
JESSENIA: [Laughs] I love ASMR chiropractor videos. I'm in awe of deer and terrified by them. My chart – yes, I'm a Virgo, but I'm a Capricorn Moon and Pisces rising. Four, I'm pretty clumsy. And five, I am a big reader! I love to learn and discover new books and new lessons.
Published on inlovemag.com