BooBoo Stewart
By Sari Cohen  May 10, 2021
There is something somewhat magical about Booboo Stewart – and no, that isn't a reference to his role in Disney's "Descendants" franchise. Whether you fell in love with Booboo as Jay [son of Jafar], as Seth in "The Twilight Saga," as Willie in "Julie and the Phantoms," or most recently, as Vic Lakota in "Paradise City," it's easy to see that he wields incredible power on screen.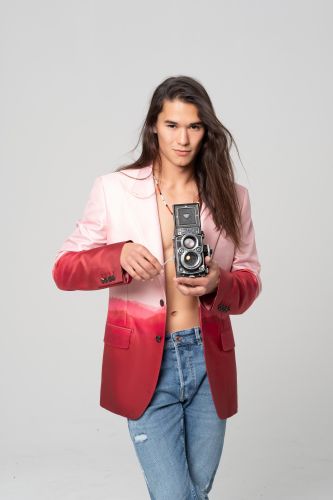 In-person, Booboo is seemingly magic personified. His talents include acting, music, art, and photography. It's probably not too shocking to learn that that's just scratching the surface. Booboo's versatility spans a long list of outlets and hobbies that channel not only his creativity but, ultimately, who he is at his core.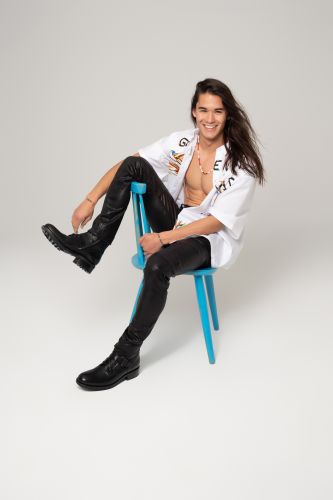 It's a wonder to witness someone who fits into every genre, and every era yet stands out as one of a kind. Someone who curiously straddles style and time – that's Booboo. He is a gem sparkling amidst a sea of Hollywood treasure. Sharing a moment with him is remarkable. When the feeling of a moment is captured in time with a photo, a story, a song, or a piece of art, it becomes something even more extraordinary.
As INLOVE gathered in Downtown, Los Angeles, to shoot Booboo's cover, he sat by a window overlooking the city, quietly sketching. One of the first things that stand out about Booboo is his tattoos. He has admittedly lost count of how many he has but happily grinned as he mentioned that the number keeps going up. He reminisced about the first tattoo he ever got [a paw print in honor of his dog] and the ones on his forearm that kept making an appearance in all of our pictures. "Bite Me RANCH" [the name of his family's ranch] next to a number – 14,179 – the height of the summit of the first mountain that he ever hiked. Each piece of art had a story to tell. Booboo proudly dons them all, being the ultimate storyteller that he is.
The vibe on set was playful and collaborative. Conversation flowed from favorite moments in time to stories about family gatherings.
Things we learned about Booboo Stewart that day…
He loves working with his hands. Workmanship is another art form to him.
He's a big Elvis fan. "Burning Love" was his favorite song off of our playlist.
Age is just a number, according to him. Every year he doesn't say he gets older; instead, he "levels up."
He is very aware of the energy he puts into the day.
"[Your energy] definitely affects yourself and people close to you, but it also affects people you'll never meet," Booboo tells INLOVE. "Putting good energy into the start of the day, and seeing where that takes you, is something I try to work on."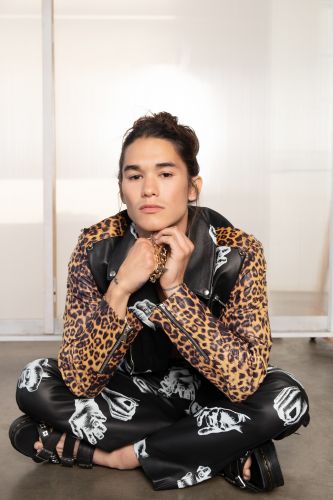 Here's Booboo's take on few other things…
On working with Kenny Ortega in "Julie and the Phantoms"
Booboo Stewart: Working with Kenny is one of my favorite things to do. He's someone I look up to. Whenever I'm around him, I just try to listen and learn.
On a "Descendants" reunion happening in some form
BS: As far as the "Descendants" reunion, I'm not sure if there will ever be a live-action movie, but we have an animated piece coming out this summer.
On the "The Twilight Saga" and a possible reunion
BS: I feel like every few months, I hear of some kind of "Twilight" reunion, but I have no idea if that will ever happen again. It was so incredible. The world of "Twilight" was so intense and exciting. I'm so happy to have those memories.
On "Paradise City" and his character Vic Lakota
BS: My character Vic Lakota, he's a member of the band The Relentless. I like to think that he's kind of like the glue of the band. Always getting stuck in the middle of arguments and drama and then resolving it.
On reuniting onscreen in "Paradise City" with Cameron Boyce
BS: Being with Cameron on set was so much fun. A while ago, we made a stop-motion short movie together, and then during the filming of "Paradise City," we finished all of the sounds for it while on a break.
On the musicians you were excited to meet thanks to "Paradise City"
BS: I grew up listing to Andy [Biersack], and Ben [Bruce]'s bands. So when we initially did the movie "American Satan," which is the film "Paradise City" follows, I was so excited to be working alongside them.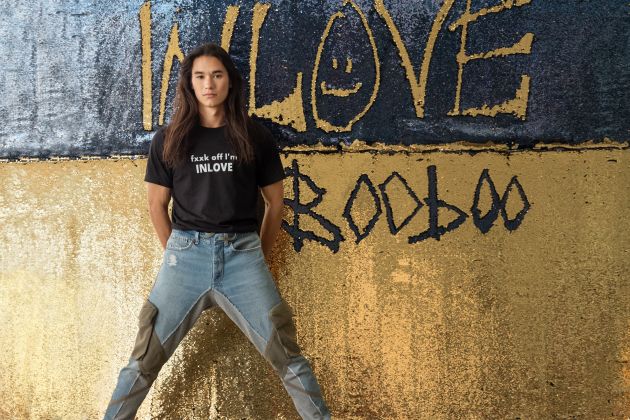 On the L.A. music scene
BS: There's just so much energy here in L.A. I love it. I'm from here. It's such a diverse and textured city. I think that's why artists come here.
On his favorite glam rock artist
BS: Glam rock, that's hard. The band Poison. They define that phrase for me.
On the most "punk" thing he's ever done in real life
BS: I love street art, and maybe I throw a few pieces up, here and there around town.
On the latest with that band Honey
BS: We've been writing and recording an EP. I'm not sure as of right now when it will be out, but we are extremely excited about what's been happening in the studio.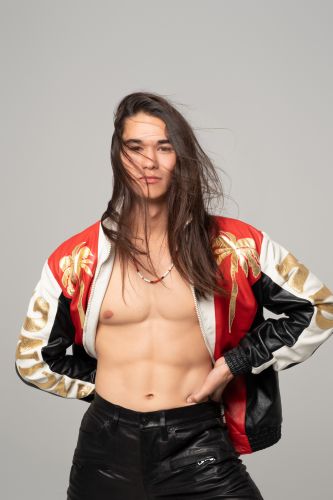 On his love for creating
BS: I love creating, making something from a blank canvas, adding some color and energy into the world. I listen to music while I paint, every genre, sometimes interviews of people, things that get me inspired.
On how Cameron Boyce inspired him
BS: Cameron is such an inspiration to me. When someone is good at something, they make it look easy, and Cameron made every single thing he ever did look easy. He could do anything. His ability to be at ease with any situation and to not overthink things is something that he still inspires me with. But that list could go on and on.
On what he hopes to inspire within others
BS: I hope that I can inspire people to create freely. To get out of their heads and to just create. It's something that I'm trying to get better at, too.
On cooking during lockdown
BS: Oh, I love cooking so much. My girlfriend and I are always cooking. We've been into making our pasta. Handmade pasta is so delicious.
On something he's proud of that he has created this past year
BS: Something I feel like maybe counts as a creation is balancing my days better. I've created, and I keep improving on my mindset. Creating better days of balance. I'm very proud of that.
On words of wisdom, he'd like to share
BS: There's a saying I like. "To command others, first you must command yourself." My Sensei says that. It helps me through harder times. I think you can apply that saying to any situation.
On what he's INLOVE with when it comes to creating
BS: Just the freedom from thoughts. I feel like when I'm painting, I go into a zone of deep focus. It's so nice to be in that place. That's what I love.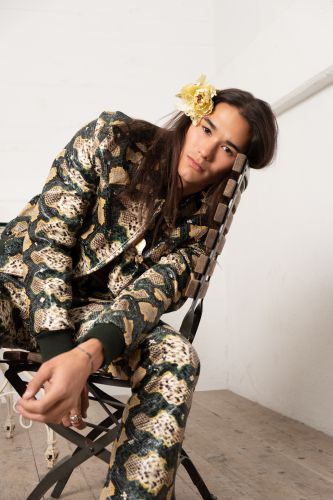 On what's next
BS: I'm excited about a film we just shot called "Those Who Walk Away." We filmed our movie in a series of really long takes without cutting. It's an experimental horror film.
On the power of a good photograph
BS: I think the power of a good photograph is the same for any piece of art that I think is "good," and it's that the piece inspires. If it can inspire, I think it's a job well done.
On getting into character on a photoshoot
BS: For me, during photoshoots, I just try and be the "me" that isn't afraid to look or be silly in front of people. Taking down walls.
They say that a man's character is his destiny. If you believe this to be true, then Booboo Stewart is fated to do amazing things in this world. After all, a character doesn't build walls; it takes them down.
Sari Cohen
Creative Director/Stylist: @vasilevsky_elena_official
Photographer/asst. creative dir: @nicolegalinson
Head Writer/Co-Producer: @thesavvyscribbler
Groomer: @cynthiaangelinamua
Stylist Assistant: @malyssa.lyles
Production Assistant: @margaritazaret
Production: @inlovepragency
Cover Look: @celine @saks @tonypersonalshop