Lele Pons
By Sari Cohen  May 10, 2021
Gracious, proud, gentle, sweet, radiant; these characteristics are what defines a goddess. They're also the same traits Lele Pons embodies. The Venezuelan beauty first found fame on Vine, inevitably parlaying her internet celebrity status into outrageous superstardom. As it stands, the 24-year-old has amassed millions upon millions of subscribers and followers across her platforms.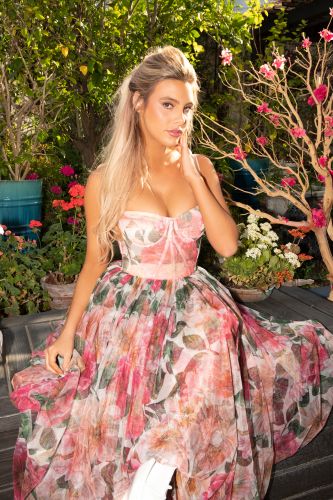 Her comedy sketches for YouTube, and her friendship with Hannah Stocking (which we all stan), rightfully thrust Pons further into the spotlight, turning her into a role model for young girls everywhere.
"I think back to the first time people at my high school started seeing my Vines," Pons reflected in our interview. "I remember gaining my first hundred followers, and that felt so incredible. Then, in a blink of an eye, that number was one thousand and then one million, and I was blown away. Launching my YouTube channel was a huge step in my career, and I'm grateful to have enjoyed many more milestones as I expanded into music."
The multi-talented star has already enjoyed a successful career, crossing bridges into acting, and of course, music. The recent release of "Bubble Gum," her super fun collaboration with Yandel, is incredibly catchy, sexy, and uplifting. It's everything we all need right now. Her new song, out this month, has fans even more excited right now.
Pons also shares her vulnerable side with fans. "The Secret Life of Lele Pons," which dives into the oh-so-important topic of mental health and Pons' own struggles with it, along with her Spotify podcast, "Best Kept Secrets with Lele Pons," invites people to have more open and honest conversations about life.
"I love having the chance to make an impact on people's lives and bring them joy," Pons Tells INLOVE. "It means so much to me when someone tells me how my music or videos made them feel better or helped them get through a difficult time."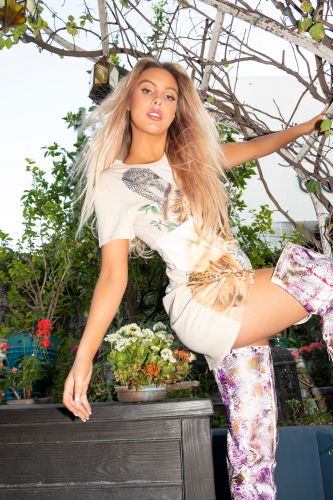 Lele on the latest…
Sari: Tell me how you came up with the concept for "Bubble Gum."
Lele Pons: We wanted to create a fun song that people could dance and vibe to, something that makes you feel like you're the main character. The song and the video came together so smoothly and quickly. It's bright and sweet with a sexy side that makes you want to strut and dance in front of everyone.
Sari: What was it like working with Yandel?
LP: Yandel is a legend. He knows how to make a hit, and he has so much talent and experience that he brought the perfect energy for this record. Getting to work with an artist like him, someone that I've listened to and admired for a long time, was a special experience. We understood each other's visions, and I, personally, feel like I learned a lot from him about making a song and being an artist throughout the entire process.
Sari: How would you describe your friendship with Hannah Stocking in 3 words?
LP: Wild. Powerful. Lifelong.
Sari: Who is your number one role model and why?
LP: My mom is my number one role model. She's so strong, caring, and wise. She inspires and teaches me something new every day, and I couldn't be more thankful to have the relationship I do with her. If I can't count my mom for this, then my next answer is Shakira. She's inspired me so much throughout my life and career.
Sari: What's been your proudest career moment so far?
LP: It's so hard to pick just one moment. Performing "Celoso" at the Latin American Music Awards was really special, and I can't even begin to describe how amazing performing "Se Te Nota" with my favorite person [Guaynaa] was on the "Tonight Show." I think that my docuseries, "The Secret Life of Lele Pons," might be my proudest moment. It was scary opening up about something so personal, but I knew how important it was for me to do that. Hearing from so many people that my story inspired them and helped them feel seen was so incredible.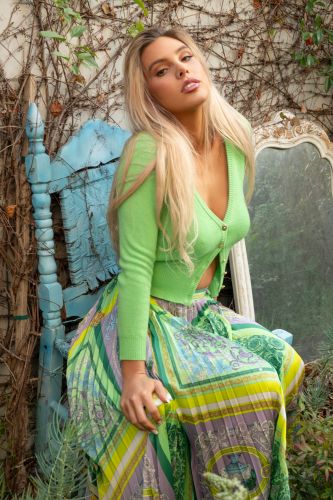 Sari: If you could pick another career, what would it be?
LP: I'd love to be a chef, even though I am TERRIBLE at cooking. I'm at my happiest when I'm putting smiles on people's faces, and you can really express that with food. You can be really creative with your dishes and recipes and tell some amazing stories about your culture and your experience through food. People love to be happy and love food!
Sari: What is something that your fans don't know about you that you could share?
LP: This isn't necessarily a fun fact about me, but I feel like I haven't expressed how much all of the love and support from them has impacted my life, specifically over the last year. I opened up about some of my battles with mental health, and the response was overwhelming. Knowing how much my music and videos, and art mean to people gives me energy when I'm tired and brings me joy when there isn't much around me. I can't thank everyone enough. I try to respond and acknowledge as much fan content as I can, but just know that if I don't, I probably saw it, and it means the world to me.
Sari: Is there a universal message that you want to get out to your fans?
LP: With everything going on in the world, it's important to remember that you are doing great. We're all going through a lot, and it's not easy to handle it all, but make sure you find ways to treat yourself with love and kindness. And, to my fans, thank you for keeping my spirits high over the last year.
Sari: What are you working on now?
LP: My team and I have been working on a lot. We have a lot of great momentum right now, and I'm really focused on making more music. I have a couple of different projects I'm working on, and one of my biggest goals is to release an album.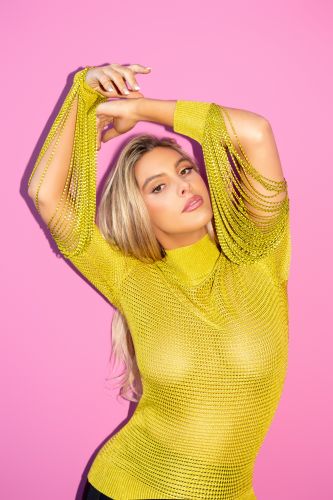 Lele on love….
Sari: What does being in love mean to you?
LP: It's a beautiful feeling. Love is supposed to be fun, in my opinion, and I think being in love means opening yourself to new opportunities for fun and peace.
Sari: Can you offer any love advice or relationship tips?
LP: So many problems can be avoided if you just communicate. Make sure to tell your partner how you're feeling and check in with them to see how they're doing. [Guaynaa and I] both have insane schedules, but it's as simple as sending a quick text that says, "Hey, I'm going to be unavailable for a few hours. Let's FaceTime later tonight." It's so important to communicate what your wants and needs are as they come up so that everyone is on the same page.
Lele on the cover…
Sari: What is so powerful about a good photograph?
LP: There's something beautiful about capturing a specific moment in time that you can't ever really capture again. You're freezing a moment in time forever and telling a story with it. You can feel emotions and history in a photo. What I think is even more amazing is how so many people can take something else away, how the story of the photo takes on a life of its own depending on the experiences of the person looking at it.
Sari: This shoot really embodies the spirit of romanticism. What do you love most about that era?
LP: It's easy to fall in love with the creative energy of the time. Artists and sculptors approached their craft with so much care and respect. The level of detail in works of all kinds is really inspiring! I think we're seeing a little bit of that now. With how easy it is to create, I feel like there are a lot of people exploring their hobbies and pushing themselves creatively.
Sari: What is your favorite thing about getting into character on a photoshoot?
LP: I love how important the details are. You get into this mindset, and you create a detailed backstory in your head, and then you have to apply it to every part of your body, down to what your fingers and toes are doing. Your understanding of a character impacts how you'll tilt your head and what emotions you're sharing through your eyes. I enjoy the back-and-forth with a photographer because their vision is bringing your character to life. It's through their eyes that you can share this story with people.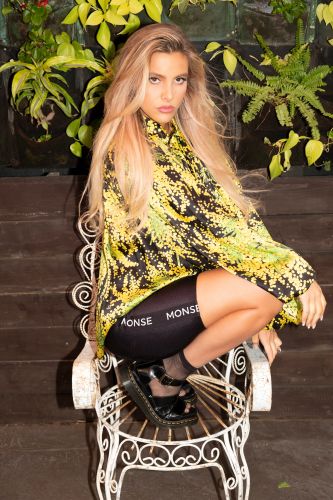 Lele's list of favorites…
Favorite holiday?
It might be cliche, but I really do love Christmas. I love the music, the lights, and being with family. There is just so much love and joy during that time.
Favorite subject in school?
History was my favorite subject because I love learning about our ancestors, and it gives me a much better understanding of the world we live in today.
Favorite guilty pleasure?
I love having a bubble bath every night.
Favorite LA restaurant?
I love Catch. The food is delicious. I also want to show love to one of my best friends in the world, Anwar Jibawi, for recently opening up his restaurant Anwar's Kitchen. It's some of the best Middle Eastern food you'll ever have!
Favorite book?
Harry Potter! All of them!
Favorite color?
It has to be red. I feel so good when I'm wearing anything red and, of course, I love the feelings of love that the color represents.
Favorite drink to order at a bar?
A lot of the best nights start off with tequila shots.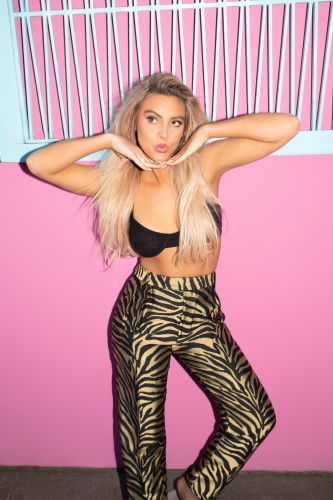 Favorite song to sing in the car?
This is tough! Lately, I've been playing a bunch of TikTok songs. I think I speak for all of us that there's something really fun about being super dramatic by yourself in the car while you're belting the words to "drivers license" by Olivia Rodrigo. She's so talented.
Favorite music genre?
I love all Latin music, especially reggaeton and pop. If I'm in control of the music in the car or at a party, I'm playing a bunch of Daddy Yankee, J Balvin, ROSALÍA, Bad Bunny, Karol G, and of course, the queen, Shakira.
Favorite skincare routine?
I'm really not great at skincare, but I really do love using Loops Beauty masks. They feel so refreshing.
Favorite hair care product?
I love how Olaplex protects the hair from chemical damage and how smooth it leaves my hair feeling after every use.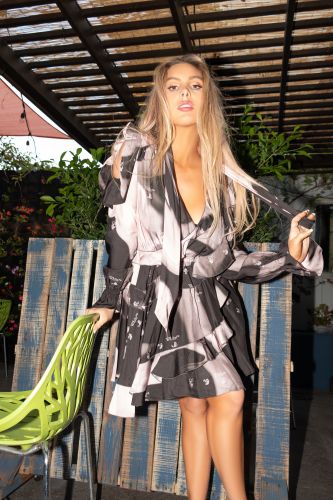 Favorite show?
La Casa de Papel aka "Money Heist" on Netflix. I love how it's full of adrenaline and suspense.
Favorite TikTok trend since the pandemic started?
There are so many! It feels like there's a new one going viral every week. I'm a little biased, but I really loved the "Se Te Nota" trend. I LOVE seeing people of all ages from all over the world dancing to my song!
Favorite pandemic pastime?
I think all of the TikTok trends have helped me get through this pandemic. Scrolling through them and trying to learn them has been so much fun, and I think people are incredibly creative with the dances they come up with.
Favorite life hack?
Listening and dancing to my favorite music. It always improves my mood and productivity!
Behind The Scenes with Lele Pons
Sari Cohen