Famed Caribe Hilton.
The beachfront resort is now beautifully reimagined with exquisite landscaping designs, giving off an overall tropical paradise vibe. There are over 650 rooms available. Boasting stunning ocean, or garden views, chic designs, and pristine accommodations, the hotel incorporates the vibrant elements of San Juan with the upscale components that vacationers crave.
By Sari Cohen August 6, 2020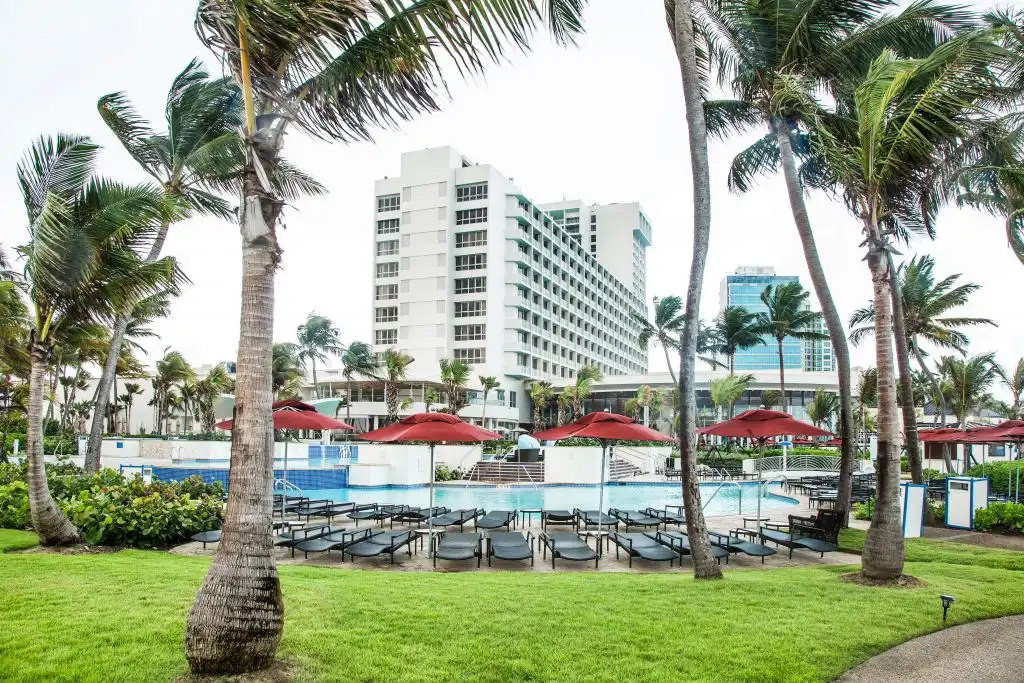 How dreaming of Puerto Rico got me through the pandemic…
It was March of 2020, and the world still looked like a desirable place to explore – at least at the beginning of the month. Families were on vacation, business trips were a thing, girls were still arriving in packs for bachelorette parties, honeymooners had no cares in the world, and travel writers were happily satisfying their wanderlust as they hopped the next plane to their latest destination.
I was in the middle of a junket in Hollywood when I got the email from my editor. "Sip piña coladas in Puerto Rico," the message read in my inbox. As an entertainment reporter, I'm used to interviewing celebrities. Travel stories haven't always been my beat, but how could I say no to an assignment like that? Sipping piña coladas on the beach is one of my favorite things, and I had never been to Puerto Rico. Not only that but the Caribe Hilton, who would be hosting the trip, is famous for their piña coladas. The resort, located in beautiful San Juan, dates back to 1949. Its rich history alone is enough to pique your interest. The Caribe Hilton was the island's introduction to modern hotels, and it was the first Hilton hotel outside of the continental United States. It's also the birthplace of the piña colada. Then came the hard part – how many bikinis should I pack?
I was on a plane faster than you can say dream vacation. While news about the novel coronavirus had just begun to ripple out across the world, we were not yet at a point where it impacted anyone's travel plans. Sure, there was a level of caution, but life as we knew it still existed, and so, I was off for the ultimate winter getaway. Little did I know at the time how important the Caribe Hilton would end up being to my sanity for the remainder of 2020.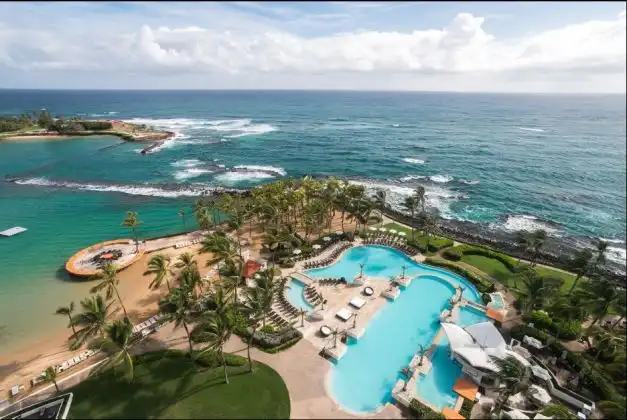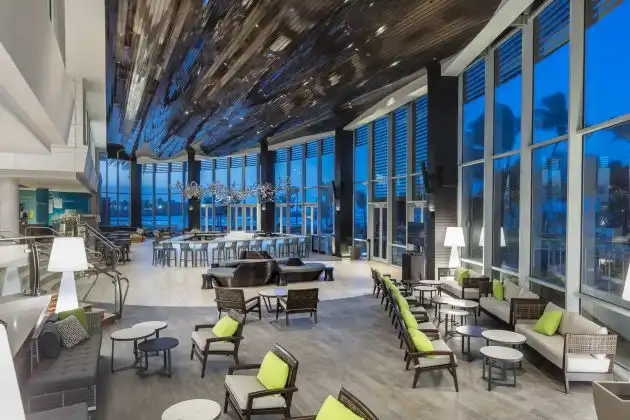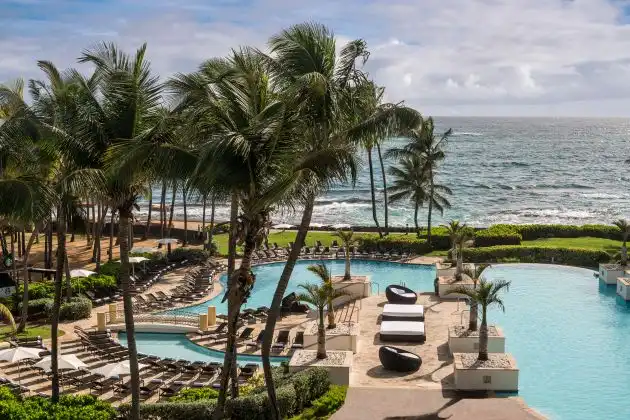 In 2019, the Caribe Hilton celebrated its 70th anniversary. It had been heavily damaged during Hurricane Maria, and after a 15-month closure, reopened its doors in May of last year. The beachfront resort is now beautifully reimagined with exquisite landscaping designs, giving off an overall tropical paradise vibe. There are over 650 rooms available. Boasting stunning ocean, or garden views, chic designs, and pristine accommodations, the hotel incorporates the vibrant elements of San Juan with the upscale components that vacationers crave.
The average temperature in San Juan is somewhere above 80 degrees Fahrenheit. While scattered showers are certainly a possibility, the call of the beach (day or night) seemed to outweigh any fickleness of the weather. I immediately found the atmosphere to almost be intoxicating – and this was before my first piña colada. I'm not used to solo trips, but the Caribe Hilton made me feel right at home. It's ideal for any occasion. It's tranquil, with a touch of familiarity, at the same time enticing, seemingly beckoning you to step outside of your comfort zone.
First and foremost, was the matter of the piña colada. As I consider myself somewhat of a piña colada connoisseur, I held high expectations before taking my first sip. Their specialty drink did not disappoint. Caribe Hilton bartender Ramón "Monchito" Marrero created it in 1954. In 2004, after 50 years, the hotel received an official government declaration, naming it the official drink of Puerto Rico. Marrero happily served the cocktail at the resort for more than 35 years. Knowing that his lessons have been passed down to those behind the bar today, made each sip taste like some sort of tantalizing, time-traveling experience.
While my first piña colada was at the Caribar in the center of the hotel, my first meal was at Rustica Ristorante. By now, other travel writers were arriving, and we were all becoming fast friends looking for a place to dine. Rustica shares a menu with Lola's, inviting diners to pick from traditional Puerto Rican dishes or proper Italian cuisine. Both restaurants are ideal for foodies. I was so impressed with my initial experience; I made it a point to dine there as often as possible during my stay. The restaurants were interchangeable in quality, so I decided on what to eat, depending on my mood. Each time I was there, I chose a different meal. Each time, it was equally as satisfying. Even now, as the old world from March becomes more of a distant memory, the taste of these dishes linger, leaving a constant craving that can only be satisfied with a return trip.
After everyone had arrived, we spent a night learning how to mix proper piña coladas. Fun fact: they use REAL maraschino cherries. We went to Mojitos for dinner, where a fusion of Spanish and Creole flavors, island spices, and fresh farm-to-table ingredients are creatively woven into a variety of delectable dishes. Everything that was sampled, from appetizers to main meals to desserts, was delicious. It's one thing to have a favorite dish of the night, but here, the food was so good, It was easy to finish off everything that had been prepared for us. The lobster was a particular treat. It came with bold flavors, that were perfect parts sweet and savory. By the end of the trip, that meal still held the top spot on my favorite Puerto Rican culinary experience list.
You can spend your mornings having breakfast at Nectar de Caribe (buffet style), or just order in some room service. The Piña Colada French Toast is a must-have during your stay. On day two, our group went for some tennis lessons at the Monica Puig Tennis Center, conveniently located next to the fitness center. Puig, the first Puerto Rican in history to win an Olympic gold medal, partners with the resort. Occasionally, she'll stop by to play a set or two. Tennis lessons are a huge recommendation for any level of player. I can't remember ever playing tennis in my life, yet I actually learned a few things with proper instruction. I had fun. And I wasn't half bad.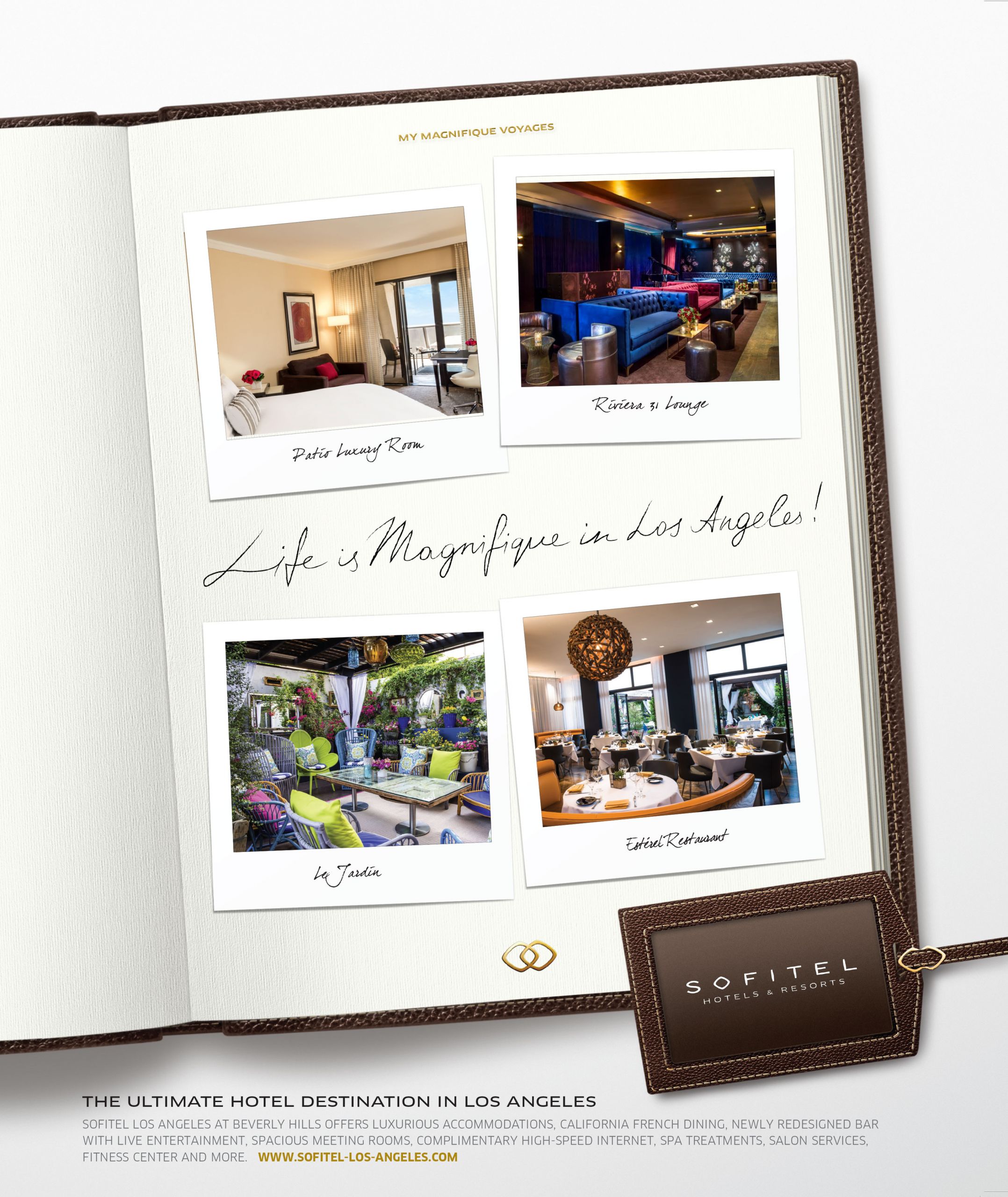 Tennis lessons ended when it came time for my scheduled spa appointment. Some of the girls on the trip had opted for an aqua adventure/snuba activity. I booked out that time in the spa. Zen Spa Océano at Caribe Hilton will have you feeling completely pampered. Every good vacation needs a place where you can indulge in some "me time," and the spa is it. There are body massages, stone massages, exfoliations, wraps, facials, waxing, manicures and pedicures, hair, and makeup appointments. Of course, If you have the time and want to take in the full Zen Spa philosophy, you can go for a three to six-hour total body, mind, and soul experience. The area itself is serene and perfect for any social media spa day pictures you may want to post. Singles, couples, or a group of friends; everyone will enjoy this peaceful resort perk.
Another extremely Instagrammable spot on the property is their secluded beach. Bagua, Hotel Caribe's swim-up bar, is perfect for ocean-view dining and provides a great place to post up for an afternoon snack, which, of course, should be accompanied by a piña colada. The pool bar is likely to serve over 100 piña coladas a day; It's so popular that many locals who stop there, are said to order the drink even without rum. The hammocks on the private beach certainly provided the most picturesque spot for travelers. You can lounge and enjoy the view, stroll along the beach next to the crystal blue waters, or make your way to the other side of the resort to visit the 17th century San Geronimo Fort.
The award-winning Hotel Caribe is in a prime location for travelers. It sits on a beautiful peninsula made up of 17 acres of tropical gardens. It's only 15 minutes from the Luis Muñoz International Airport (SJU) and is a quick Uber ride away from historic Old San Juan. Offsite, we made our way to Esquina Watusi. The dive bar is found in the Santurce area of San Juan, and while it is a hotspot among locals, I would not recommend blindly walking into this place as an influencer from out of town who just wants to take pictures in front of a colorful wall.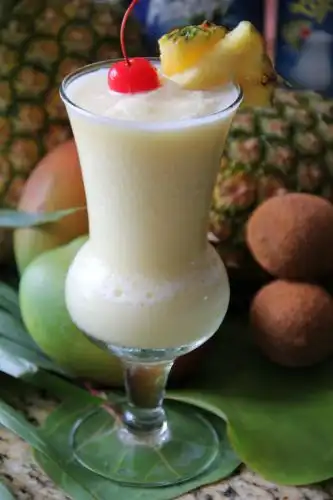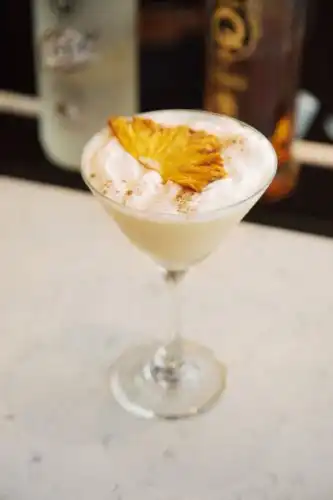 There is so much unfolding in real-time before your eyes; it's important that you walk into this part of town ready to experience life how other people live – not how you usually do it.
If you're lucky to be there at the right time, you can sip on some rum and catch local "plena" musicians, playing in the streets. It's the perfect opportunity to get lost in Puerto Rican culture and truly immerse yourself in your surroundings. Folks are friendly, the drinks are plentiful, and if you happen to meet the right people, you may end up learning a dance move or two. This also gives you the chance to explore the Santurce neighborhood, where beautiful artwork adorns the walls, almost as if it's sharing a new story with you as turn each corner. As you make your way through, there are plenty of colorful walls you can choose from that offer up a multitude of Insta-worthy moments.
After drinks and views, came dinner at PROLE Cocina & Barra. Located in the middle of the iconic Cerra Street, this intimate dining spot gave us the unique, upscale experience we were looking for to cap off our night. Perfect for date night or an evening with friends, the atmosphere was contemporary, classy, and inviting. Helmed by famed Chef José Esteban Rivero, and his wife, Sarah Santos, the two opened this spot in April of 2019. The opening marked Chef's homecoming after 11 years away in Philadelphia. The drinks are crafty, the food is divine, and the ambiance is almost bewitching.
The start of my final day in Puerto Rico was spent on a jet ski excursion at Cangrejos Yacht Club on Isla Verde. As someone who skipped the previous ocean adventure, you might guess that I'm a bit timid when it comes to the water. My feelings of trepidation likely spawned from some childhood experience I had growing up on the beaches of New York – but I digress. Now was the chance for me to face any fear I was hanging onto. I was not only climbing onto a jet ski, but I was driving it alone. Apart from my initial hesitation and moving so slow that I was trailing behind our group most of the time, it was one of the most thrilling experiences of the trip. There was remarkable freedom that came with cruising through the waters of the Caribbean. As we drifted through the mangrove canals of the San Jose Lagoon, the scenery completely changed. Birds flew over us, fishermen kindly smiled as we passed through, and sounds of different animals were almost as awe-inspiring as the big blue sky overhead. The entire experience felt empowering. For most, it would've been a "normal" fun vacation experience. For me, I got to challenge my fears. Knowing what I know now, it was a chance I'm glad I took.
As the day moved on, we made our way to La Garita. The weather was shifting a bit, and some rain had begun to fall intermittently. I sat down for lunch with my group, enjoyed some traditional mofongo, and stared out at the gorgeous panoramic ocean views. "Despacito," of course, played through my mind as I looked out over the colorful homes in La Perla, where Luis Fonsi and Daddy Yankee filmed the video for their 2017 hit song.
While La Perla has long been used for various backdrops in videos and famous films, for decades, the area was known to be a bit dangerous. All of that slowly turned around with the help of Luis Fonsi and Daddy Yankee. Now, it's a popular tourist spot. While the group and I walked around the colorful barrio, we learned all about its history – and its present. We saw the Santa María Magdalena de Pazzis Cemetery, eventually making our way to Malecón. The stretch of coast offered picture-perfect opportunities for every writer or influencer to take their ultimate "I'm living the life in Puerto Rico" photo. It was beautiful, however, if I were to pinpoint my favorite part about that afternoon, it was on our walk, when we made friends with some of the locals in La Perla. We may have initially tried to order Chichaitos (shots), but once we started asking, faster than you could say, piña colada, we were surrounded by people who just wanted to share their Moonshine with us. Pitorro is Puerto Rico's version of Moonshine, and, according to most, it's not easy to come by. The alcohol gods were on our side that day because we found it in abundance. Crowds of people stopped working, joined us on the streets, opened up private shops, brought jugs out of their cars, and kindly treated us to every type of Pitorro they had. They wouldn't even take our money; they were just enjoying our company. To me, this is the real spirit of Puerto Rico.
That last night, thanks to a twist of fate, I was able to spend some one-on-one time with a good friend of mine who just happened to not only be in Puerto Rico at the same time as me but was also staying at the same hotel – even though her work meetings were on the other side of the island. The two of us had ventured out alone that night in downtown San Juan, where neither of us had been before. We drank our way through every open bar, danced through the streets, watched as cruise ships docked, and crowds poured in. Then, all of a sudden, reality hit. News of coronavirus was now everywhere, and one by one, things were beginning to shut down all over the world. The severity of it first came across in the news that Tom Hanks and Rita Wilson, one of Hollywood's most adored couples, had tested positive. Working in the entertainment industry, I knew at that moment everything was about to change. As we sat there, emails rolled in about upcoming events getting canceled, and fear once again took over. I wondered if I'd even make it on a plane back to California in time to be with my family before the world would cease operating. As my friend and I prepared to leave downtown and head back to Caribe Hilton, there seemed to be an outpouring of people just flooding the streets. Parades, cars, motorbikes, people were singing and dancing, strangers kissing. Who knew that a few months later, a world fitting that description wouldn't even exist anymore. While my friend and I were extremely safe and sanitary the entire time, it was an odd predicament to be in the middle of. It felt like that last apocalyptic party scene you see in movies, the one right before the ways of the world become unrecognizable. We made it back to the hotel, said our goodbyes, and I spent one last sleep in one of the best hotels I've ever stayed at.
I was on an early flight the next morning, and after a long travel day, made it safely back to my house in Orange County, Calif. where thankfully, to this day, my family and I remain COVID-19 free. Within a week, everything else was canceled: my trip to New York, my trip to London, there would be no more junkets and no more red carpets. While I'm fortunate enough to continue writing and doing my interviews (virtually) from home, losing that person-to-person connection has been hard for me, as I'm sure, it's been for everyone else.
Perhaps that's why I wanted to write this story in the first person. As a journalist, writing from a first-person perspective is not something I often do, but because of my experiences, I felt that everyone should know firsthand just how much love and magic exist here.
It was my last stop before the pandemic started, and I plan on making it my first stop once the pandemic is over. A stay at the Caribe Hilton offers you everything you could ever hope for when it comes to vacationing in a tropical paradise. My pre-pandemic vacation built friendships with women who live all over the world, it allowed me to challenge myself, gave me the space to relax, brought out my athletic side (which I didn't even know I had), and gifted me with some tasty dishes. Of course, the cherry on top is finally knowing what the world's best piña colada tastes like. It's a dream I can't wait to revisit.
Sari Cohen.
Published on INLOVEMag.com.