Jules LeBlanc
By Sari Cohen  May 10, 2021
Julianna Grace LeBlanc is one of the most famous teenagers in the world. 2021 has been an exceptional year for the 16-year-old. She recently graduated high school, got her driver's license, and is currently starring as Lex in Nickelodeon's "Side Hustle."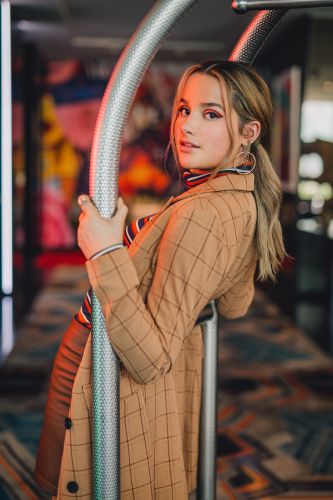 LeBlanc's millions of followers on social media get to keep up with her daily, either learning about her latest life updates or getting some insight into things like her zodiac signs. In case you're wondering, her sun sign is Sagittarius, her moon is in Virgo, and her ascending is Gemini. In other words, the stars have aligned nicely for LeBlanc. According to all of the above, her future looks undeniably bright.
INLOVE Magazine recently met up with LeBlanc at the Sofitel in Beverly Hills, Calif., to shoot for our spring/summer issue. The actress/artist did what she does best: sparkle and shine.
Sari: What or who would you say has been your biggest inspiration?
Jules LeBlanc: At the moment, my biggest inspirations are Olivia Rodrigo, Lennon Stella, and Kendall Jenner.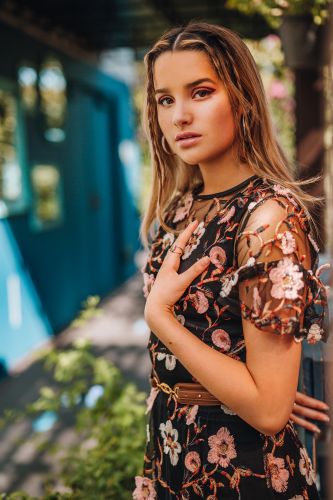 Sari: What's been your proudest moment as a singer? Are you working on any new music now, or will you be releasing anything soon?
JL: I'm really proud of my last music video, "Utopia," because it was a new chapter in my music journey. And I love anything I've done in the past when it comes to performing, as I love seeing and interacting with my fans. I have not been working on any new music at the moment, as my focus has been 100 percent on my Nickelodeon show, "Side Hustle."
Sari: What are you most INLOVE with when it comes to acting?
JL: I'm most INLOVE with getting to play another character and being creative as someone who is different from who I am in real life.
Sari: What do you love most about doing a show like "Side Hustle" and playing the character of Lex?
JL: I love that it's different from my real life because "Side Hustle" is more young, whimsical, and playful, whereas life as a 16-year-old is a little more serious as I'm entering adulthood.
Sari: In what ways are you similar to Lex in real life?
JL: I'm similar to Lex in that she is very sarcastic and witty and also very loyal to her friends.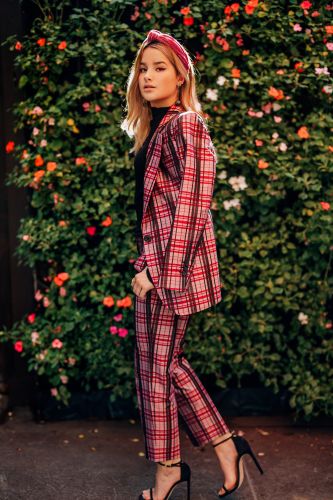 Sari: What makes you and Jayden [Bartels] such a good team? How do you make each other not only better actors but better people?
JL: Jayden and I make such a good team because we've been best friends for four years, so there isn't much we don't know about each other, and we are able to balance each other out. We're very good at communicating with each other and make each other better people by supporting each other in our endeavors.
Sari: What's your favorite thing to do with Jayden when you're not on set?
JL: Jayden and I can do anything and have a blast! Recently we've been going to the Melrose Trading Post and skateboarding when we have time off from "Side Hustle."
Sari: Which social media platform do you like best? YouTube, Instagram, or TikTok?
JL: Instagram or TikTok.
Sari: Which social media influencers currently influence you?
JL: Lydia Campanelli, Avrey Ovard, and Emma Chamberlain.
Sari: What's your favorite viral video you've ever done?
JL: A lot of the viral videos I'm in I don't really remember because I was so young, but looking back, I'd say my favorite video was "Hooray! Yippee! You're Three, You're Three, You're Three!"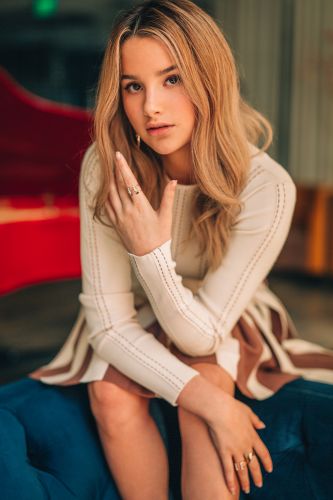 Sari: What do you think is the secret to going viral?
JL: There isn't really a secret to going viral. People who go viral are ones who are creative and put out content that captures the audience's attention and shows them something they've never seen before.
Sari: I've heard that you don't edit the photos that you post. What are some tips for posting the perfect Instagram pics?
JL: Recently, I've been into doing photo edits! For me, there is no perfect Instagram picture. The only thing that matters is that you should like the picture and aren't just doing it for other people.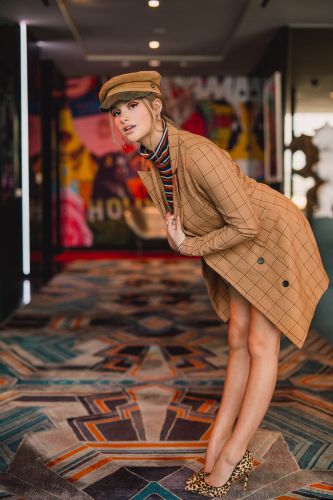 Sari: What's one new trend you want to take with you into the summertime?
JL: Bright colors and patterns!
Sari: What's your ultimate hope for 2021?
JL: That Covid is no longer shutting everything down by the end of the year.
Sari: Is there anything you want to add?
JL: I hope everyone reading this is having an amazing 2021 and is always remembering to stay positive and true to themselves.
Sari Cohen
Jules LeBlanc @julesleblanc
Creative Director @vasilevsky_elena_official
Photographer @amandapeixotoelkins
Stylist @stlylvr
Makeup @elienmaalouf
Hair @guiniushair
Co-Producer/Writer @thesavvyscribbler
@platformprteam