A few episodes into the first season of Starz', "P-Valley," and the show has already been renewed for a second season. It's not a huge surprise to fans. With significant support and social media love from artists such as Snoop Dogg, eight episodes just weren't going to cut it. Katori Hall's creation takes us to the Mississippi Delta, where we follow a handful of employees at a strip club called The Pynk. Season two will add an extra two episodes to the hour-long drama, bringing its total number to ten.
"P-Valley" quickly became one of the hottest shows of the summer. It's provocative, compelling, and introduces us to some strong female leads. Hall also tapped a lineup of incredibly talented female directors, upping the feminine factor behind "P-Valley" even more.
Skyler Joy, who plays Gidget, joined INLOVE Live just after the show premiered in July. We sat down (virtually) for laughs, a few pole dancing tips, and some fun behind-the-scenes stories. Joy joins us once again for part two of her interview.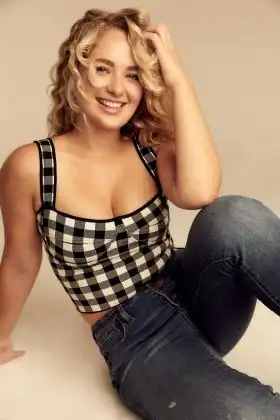 Sari: What made you fall in love with acting?
Skyler Joy: Since the first production I saw when I was five years old, I knew I wanted to be a performer. As a child, I was bullied in school, and the one place I felt like I wasn't judged was when I was on stage. That's how my love for acting started, but today I think, among many other reasons, I love acting is because I love telling stories. To be able to share a story that someone in the world can relate to in some way is such a powerful thing to me. When I was a kid, I never felt alone when I was watching movies; I hope I've been able to share that with others in the world when I'm on their screens.
Sari: And what a story you get to tell in "P-Valley!" Tell me about your role.
SJ: In "P-Valley," I play Gidget, one of the dancers at the club on the show. She is a part of what they call the Trinity on the show. Within the Trinity is Gidget, Mercedes, and Miss Mississippi, who are all of the main dancers that people come to see. The three girls are also all best friends. Gidget has huge dreams of leaving the club to start competing in pole competitions, but she is constantly thrown obstacles that make it difficult for her. Throughout the series, the viewers will see Gidget's struggles that push her to wear colorful wigs, bright outfits, and heavy makeup, which give her that escape from reality while dancing. Gidget is the type of character that I think people will love because she is so unapologetic when it comes to being herself.
Sari: What kind of work did you have to do to prepare for this?
SJ: The first thing I did to prepare for this role was to go to a strip club! When I received a callback, I realized I had never been to one before. So before going to my callback, I went to a strip club on Hollywood Boulevard by myself and watched. From there, I really was able to begin my deeper character development work.
I had to learn how to pole dance for this role. Prior to the show, I had taken pole fitness classes, which made it a little easier to pick up some of the tricks, but it was still a lot of work! I don't think a lot of people understand how much strength it takes to pole dance. Most days, I was rehearsing for four to five hours and would come home with bruises all over my body. Women who pole dance are incredible athletes, that's for sure!
Sari: Tell me about some of the struggles you went through as an actress before booking this part?
SJ: The first struggle I experienced was growing up on a small island in Alaska with no film or television auditions to attend. I remember begging my parents to take me to L.A. in which they'd always reply, "Just keep taking every opportunity you can, here in Alaska." So that's exactly what I did.
When I turned 18, I moved to Atlanta to begin building my resume. I was able to book some television shows while working at a pub in midtown. I stayed in Atlanta for four years, and it was a constant hustle the entire time. I have memories of staying up until 3 a.m. with my two best friends, Aspen Kennedy and Marvin Laviolette, taping our auditions before we all had to be at work the next morning. After noticing most of the bigger roles were cast out of L.A. and N.Y., I had a gut feeling to move to L.A. I prayed for a sign to push me in the right direction of staying in Atlanta or moving to L.A. That night, my home was broken into, and all of my things were either stolen or damaged. I took this as a sign and headed to L.A.
My first year in L.A. was very strange. I remember constantly feeling like something big was about to happen to me. When I started auditioning for "P-Valley," I felt so connected to Gidget, and I wanted the part so badly. The casting process was lengthy because there were so many characters to cast, and there were times it was really difficult for me. There was a moment I didn't hear anything for about two weeks and just assumed I didn't get the role, which left me with a broken heart.
As I stood in a room full of producers and directors for another project, I had my first horrible audition. I dropped every single one of my lines. It was so bad! I had flown from L.A. to Atlanta for this callback and hadn't slept for about 24 hours. I was exhausted! I left the room and cried for about three days. This was the first time I had ever felt like I wanted to give up. I knew that I would never give up, but I wanted to so badly. About a week later, I attended a callback for a commercial, and I remember feeling so weird that day. While leaving, I looked down at my phone and had about a million calls from my reps. I HAD BOOKED THE ROLE OF GIDGET. I ugly cried in my car the whole ride home.
My journey has been full of ups and downs, but I wouldn't change it for the world.
Sari: What is it like debuting a new show during the time of COVID?
SJ: I can't say this is how I pictured it would be, but I'm so grateful, and I've still enjoyed every moment of this experience. When the show premiered, I felt a little sad I couldn't be in person with any of my friends or family, but my boyfriend cheered me up by surprising me by decorating our whole house! Although these are hard times, I honestly don't think the show could've come out at a better time. People need good content to keep them entertained, and "P-Valley" has been just the show to do so!
Sari: How do you see the world of acting changing after we get through this time?
SJ: I think during this time, a lot of people realized how much more can be done virtually. I can foresee castings being done all through a computer, more content created around the virus, and maybe even some Zoom table reads. More than anything, I hope this time has given us all a time to reflect and take the necessary time for self-care.
Sari: What are some words of wisdom that you live by?
SJ: Your journey is your journey, and no one else's. Enjoy every moment of it, whether it be painful, joyful, or worrisome. Just be present in those moments.
Celebrate other's victories the way you'd want them to celebrate yours. Jealousy is ugly and not worth it. Your time is coming, but right now, this is their time.
Have the courage to dream bigger than the limitations that are put on you.
People often speak based on their own fears and experiences, but your gut will always lead you to the best decision for yourself.
Sari: Since COVID, name three things you realized that you absolutely couldn't live without?
SJ: I couldn't live without the joy having a dog brings to me, friends that check up on each other's mental health, and coffee!
As Joy's real-life big dreams for the future lead her closer down that red carpet to meet Oscar, she's mainly focusing on the now and wants to encourage people to go easy on themselves during this time. "Many of us have been spending a lot of time on social media, and more often than not, that puts an unrealistic image in our minds of what life is supposed to look like," Joy tells INLOVE. "I'm here to tell you that life is short from being an Instagram post, as I look over at my unmade bed and dirty dishes in the sink."
You can catch new episodes of "P-Valley" every Sunday on Starz.
Sari Cohen.
Published on INLOVEmag.com.