With two episodes left in the season, the CW's "Batwoman" has fans hanging on with anticipation. Season 3 saw the addition of some vibrant characters, which included Marquis Jet, played by Nick Creegan. The actor came in hot on the heels of "Law & Order: Organized Crime" and says that he had no idea he'd be playing the Joker when he booked the role on the superhero series.
"I found out while I was packing to move to Vancouver. I had booked the role of Marquis Jet, but I didn't know that I'd be turning into the Joker," Creegan tells INLOVE Magazine. "The first thing I did to celebrate was watch, 'The Dark Knight.' I found out through a phone call with the showrunner, Caroline Dries, and initially, my heart started racing. I was in shock. I couldn't believe it. It was just like somebody telling you that you won the lotto – that you actually have the numbers."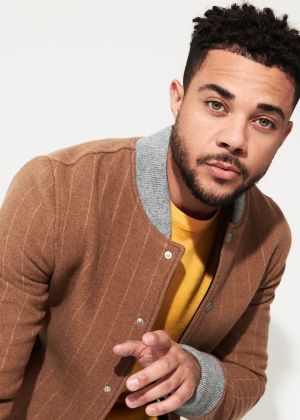 This wasn't the first time that Creegan's winning numbers were called. Fortune came knocking while he was working as a sports journalist. Creegan had worked for Fox News before he was offered the position of host for AOL's original sports-comedy series, "2 Point Lead." Then, a viral video put him in the spotlight, catching the attention of Oprah Winfrey. That earned him an audition for "David Makes Man." The rest is history. "I'm a big believer that everything happens for a reason. You can't stop your path," he went on to explain. "You'll have a lot of detours, but eventually, you're going to get to your main purpose."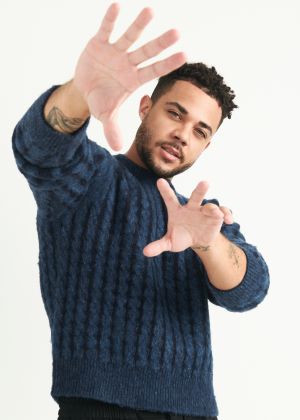 Creegan's early love for film was a good indicator of his path being paved with purpose. He grew up watching classic movies with his mother that starred greats such as Humphrey Bogart, Bette Davis, and Joan Crawford. "I was obsessed with the whole culture of film itself," Creegan recalls. "Then, I started liking my own type of films. I loved Jim Carrey and Jamie Foxx. Growing up, I loved making people laugh. I would take scenes from those movies, recreate them as my own, and tell jokes at the dinner table. I had always loved entertaining people and using my imagination for things. It was second nature to me from a very early age, but I didn't know until college that I actually wanted to pursue it as a hobby. At first, I did theater in college, and eventually, it turned into a career later on in life."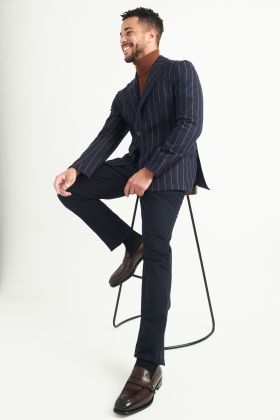 As Creegan stepped into the role of the Joker, he followed in the footsteps of his heroes – Jared Leto, Joaquin Phoenix, Heath Ledger, and Jack Nicholson. However, he never intended to fill anyone's shoes. Instead, he charted his own course and pinned an entirely different destination. "Being able to be the first person of color to portray this role is just an honor," Creegan shared. "Because obviously, when I was growing up, a lot of roles were only played by White leads. Now, representation is at the forefront. I think the type of legacy I'd like to leave is that you can play any role. There is no role that's impossible to portray. I want to be able to see young kids dressed up like me," he continued. "Having purple braids or purple dreads like Marquis Jet. That's going to be incredible to be able to witness. I also want this character to put empathy in everybody's minds. Some people see mental illness as a joke, and they don't take it seriously. Hopefully, Marquis Jet opens people's minds to empathy for mental health. Those are the type of vibes that I hope I leave."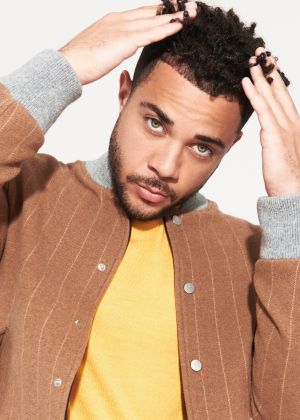 Nick Creegan on…
What is on the Joker's playlist?
"Crazy" by Gnarls Barkley, "The Way I Am" by Eminem, and some Wu-Tang.
What happens in the last two episodes?
It's going to be pandemonium. It's going to be crazy. You have no idea how much hell Marquis Jet is about to raise. It's gonna be wild.
The biggest takeaway from working on "Law & Order?"
When you work hard, good things happen. When you show up and do the work, people notice. Dylan McDermott, who played my dad, became one of my close friends and my mentor. [He taught me] when you show up, and you do the work, it will pay off. So, that's my mindset right now. You can't take these opportunities for granted. You have to know that these are not common things. A lot of people would trade it all to have themselves in that position.
What do you have coming up?
I play Sal in "Good Egg." It stars Andrea Londo [Narcos], Yara Martinez [Jane the Virgin], and Joel Johnstone [The Marvelous Mrs. Maisel]. It's an adventure-comedy dealing with in vitro fertilization and con artists. I'm also in the middle of creating a series, "A Balcony in Brooklyn," with my friend, Dennis Williams.
Biggest lesson you've learned on your journey so far?
Always be resilient. Never give up. When I look back, everything was meant to create the motivation and the experience I had. What I went through was all in preparation for where I was supposed to be going. If I hadn't gone through all those things, then there wouldn't be a Nick Creegan speaking to you now.
What are your dreams and aspirations?
Number one, happiness over everything. Happiness, close friends, family, and health, you can't trade any of that. Those are the things that actually matter. Number two, I would love to win an Emmy or an Oscar eventually. The reason I want to do that is not only for myself, but I want to be able to spread the idea that it doesn't matter where you start; it's where you finish. A lot of times, I counted myself out, and I feel like a lot of people do that all the time. If they can see somebody in the same position they were in, they'll know that they can easily do that themselves. Number three, I want to move to the coast of Italy and have a little fishing shack. I want the next Anthony Bourdain to stop by and say, "Nick used to be a legendary actor, and now he's cooking fish on the beach in Italy. Let's hang out with him and find out why he did that."
"Everything you see is really me, as far as what I put out," Creegan adds. "When it comes to my art, I love to share with people. I feel like I'm sharing a piece of myself with the world. I think every artist feels that way. It's like coming into somebody's house and having them cook their family recipe for you. It's really special. I just hope people appreciate my art as much as I appreciate making it."
Photo credit: Megan Toriglia