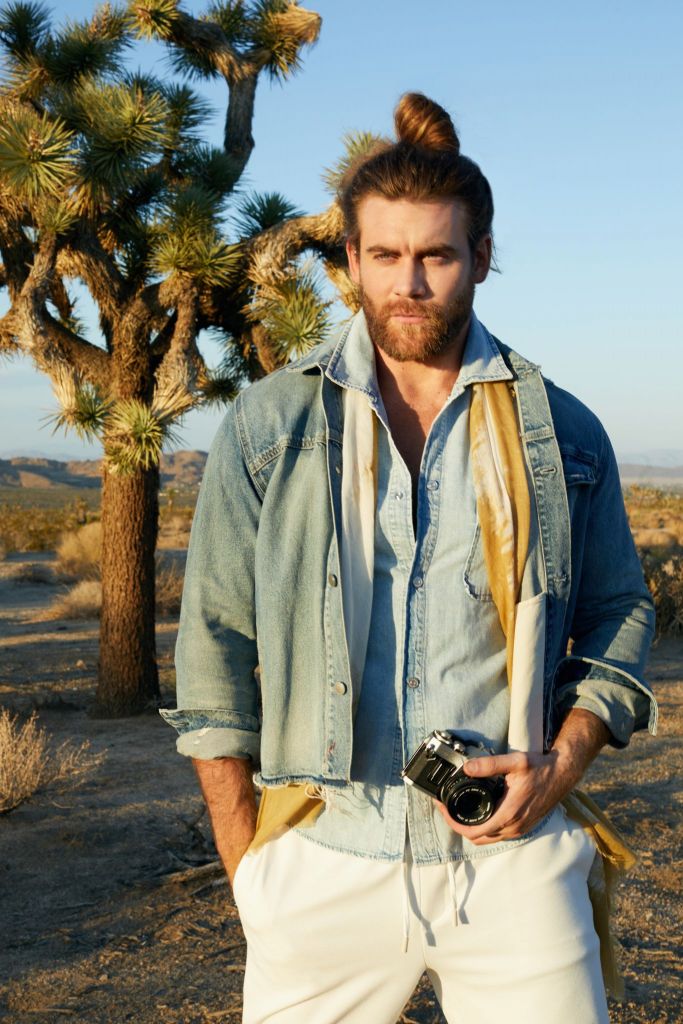 Brock O'Hurn's greatest escape as a kid was the movies. As he watched his heroes on screen, he knew he wanted to become that and give that same feeling back to others. "Movies saved me in a way," the actor, model, fitness trainer, and producer tells INLOVE Magazine.
O'Hurn first garnered international fame via Instagram circa [2016] when he turned the man bun into a trend that's still popularized today. The 6-foot-7 native Californian captured hearts worldwide with his smoldering good looks and chiseled physique, cemented his status as a longtime fitness expert, and became one of the most recognized male models, amassing millions of followers across his social media platforms.
In 2016, he made his big screen debut in Tyler Perry's "Boo! A Madea Haloween," a role he reprised in the 2017 sequel. After a series of TV appearances, including HBO's smash hit "Euphoria" and more recently playing Torsten in the HBO comedy "The Righteous Gemstones," O'Hurn is on the path he first dreamt of as a child.
"Be true to thine own self" and "Bring your own uniqueness into the world" are quotes that O'Hurn lives by. Underneath his ruggedly handsome exterior is a humble, family-oriented, kind, talented, and genuine human who strives to make the world a better place.
O'Hurn now has a slate of projects in front of the camera in the comedy realm, including Netflix's "Players" (starring alongside Tom Ellis, Gina Rodriguez, and Damon Wayans Jr.), Tony Kaye's film "The Trainer" (due out in 2023), and a role in an upcoming Hulu series. In between all this filming, he co-hosts his Studio 22 Podcast alongside film producer Will Meldman, where he dabbles in conversations about entertainment, sports, and business. He is also the founder of two companies: O'Hurn Media Inc. and Outlaw Logic Pictures.
On a hot summer's day, O'Hurn left Hollywood and came riding into Joshua Tree on his Harley to meet with INLOVE Magazine to shoot the Cover of our fall/winter 2022 issue.
Get to know a little more about Brock O'Hurn…
What Women Want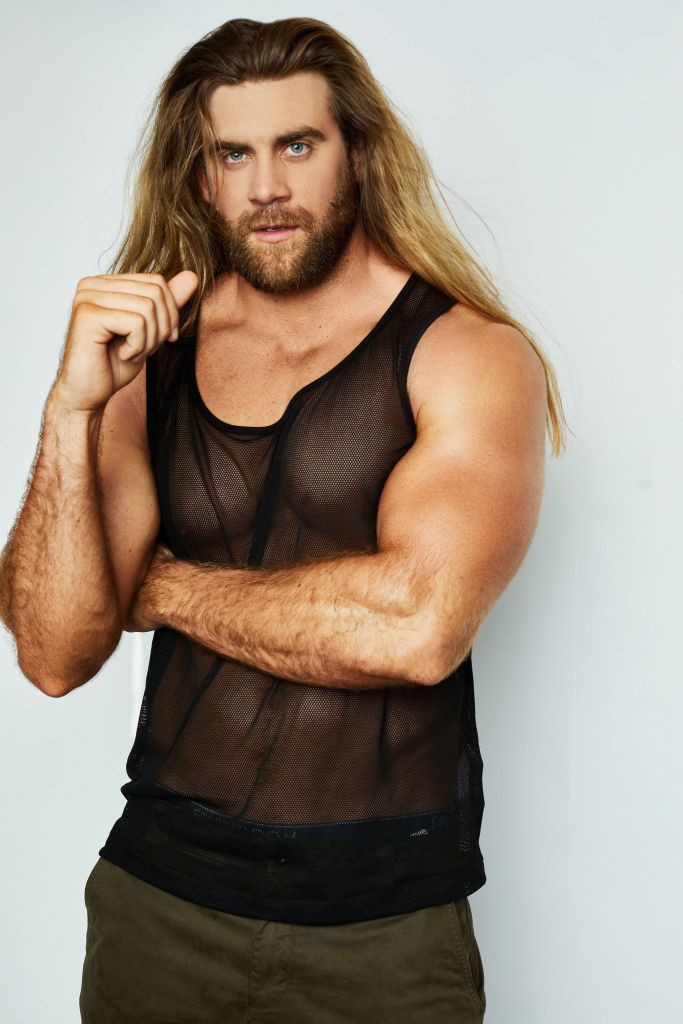 Sari: Do you believe in a soulmate?
Brock O'Hurn: I do. I believe we have more than one. Not always romantic and even in a twin flame.
Sari: What does being INLOVE look like to you?
Brock O'Hurn: It looks like a lot of things, but above all else, I'd say it's finding safety in a partner. Commitment to the one you choose.
Sari: Describe your perfect woman.
Brock O'Hurn: I don't think there is perfect. Male, female, or anyone. And I think that is where the beauty truly lies.
Sari: You leave women speechless all the time but has a woman ever left you speechless?
Brock O'Hurn: More than once, and I'll never forget it.
Sari: What is the most romantic thing you have ever done for a woman?
Brock O'Hurn: I wrote a year's worth of love letters as a birthday gift. I think that counts as romantic?
Sari: What's your dream date?
Brock O'Hurn: My dream date would last a week on an island with no cell service. Just great food, sunshine, and each other's company.
Sari: Do you ever see yourself settling down, getting married, and having kids? If so, what would that life look like for you?
Brock O'Hurn: Yes, on all fronts. Happy and fulfilled.
Sari: What's the wildest pick-up line you've ever gotten? Either in a DM or in person?
Brock O'Hurn: Some things are not meant to be repeated [laughs].
Sari: Any advice on how a girl could win your heart?
Brock O'Hurn: I can't say. But I do believe there is one woman out there who will be able to show up for me in all the ways I need and vice versa. Knowing no matter how hard or bumpy it gets, we'll never quit each other.
Sari: What's the biggest difference in your dating life going from "normal guy" to "celebrity status?"
Brock O'Hurn: I don't see myself in any special way, so honestly, all I could hope for is to meet someone who is genuine and kind. I don't think that's ever changed for me.
On The Rise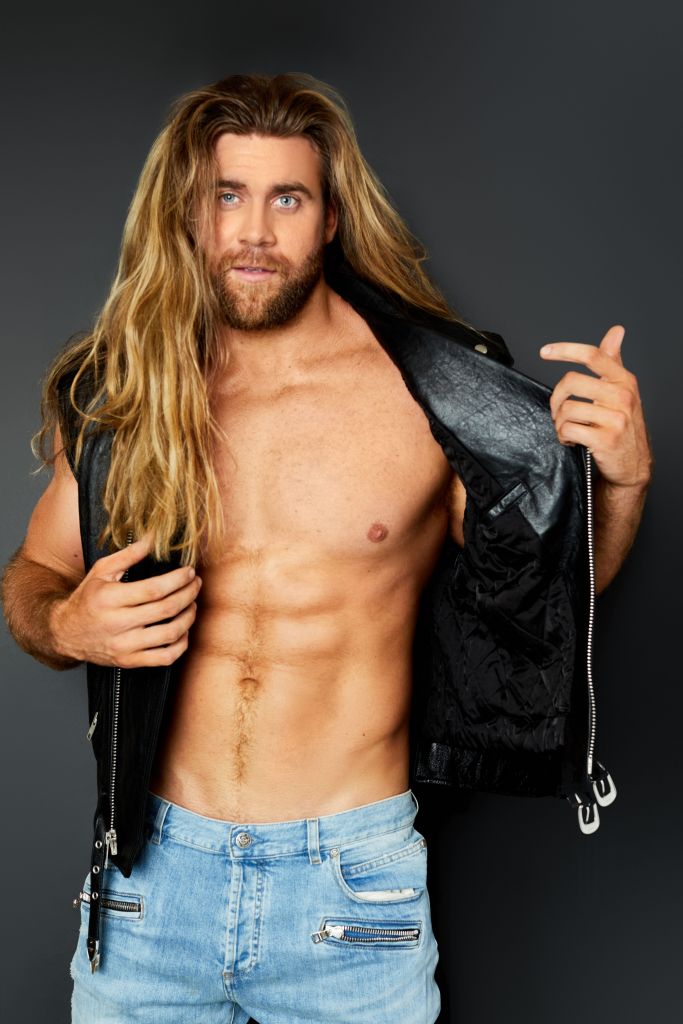 Sari: You are obviously so much more than the guy who made the entire world fall in love with a man bun. Was that a shock to you when that trend caught on and you realized that you were the one behind it?
Brock O'Hurn: It was a wild ride to be on and, yes, an absolute shock. Even now, I wonder how that happened!
Sari: How do you feel about man buns now?
Brock O'Hurn: Well, I wear one every day to get my hair out of my face, so I'm a fan.
Sari: How do you feel about trends in general?
Brock O'Hurn: I think trends are awesome. It's another way for people to connect, and I think we need that.
Sari: When things started to take off for you, was there a specific moment when you realized you had turned into this international sex symbol?
Brock O'Hurn: Absolutely not [laughs]. I still haven't realized that, if that's a thing.
Sari: I know you realized that you wanted to be an actor at a young age.
You recently did six episodes of "The Righteous Gemstones." How or when did you figure out that comedy was your thing?
Brock O'Hurn: I have always loved comedy, but with my size and look, people just think of me to be more of a dramatic actor. I was very excited to have the opportunity to be with such a great and funny cast and be able to make people laugh.
Sari: Let's talk about the new Netflix comedy, "Players." What can you tell me about your character in that?
Brock O'Hurn: My character is a fly fisherman, and I think I can say it seems he's looking to have a little fun before he moves out of town…
Sari: I know you also have a big project coming out on Hulu that we can't discuss quite yet. Is there anything you can share or tease that will get fans excited about what to expect?
Brock O'Hurn: What I can say is that this show is easily stacked with more celebrities and comedic geniuses than anything I've ever done previously. You will, without a doubt, see me in a light no one ever has before!
Sari: You're also working on Tony Kaye's new dark comedy, "The Trainer," due out in 2023. What can you tell us about your role in that?
Brock O'Hurn: We shot hands down the most physical fight sequence I have ever been a part of, and I have a feeling it's going to be something to see!
Sari: You are around other celebrities now all the time. Do you ever get super starstruck? Any good stories you can share if you have?
Brock O'Hurn: I don't get starstruck, to be honest. For some reason, I never have. But the first time I met Vin Diesel, he told me his kids were big fans of mine from the "Madea" movies. So that was pretty wild.
Sari: You also put out a comic book over the summer – KANE. What can you tell me about that? Where do you plan to go with that in the future?
Brock O'Hurn: KANE is an absolute passion project for me and my friend Will Meldman. It follows Kane as he discovers his mysterious past and life that intertwines with the Gods. It's an absolute fantasy/action epic. Our goal is to take it as far as we can, and I hope to portray Kane on screen one day.
Sari: You two also have a podcast. What can fans expect to hear when they tune in?
Brock O'Hurn: Our goal with Studio 22 Podcast has always been to spread positivity and give insight into leaders in business, entertainment, and sports.
Sari: You've also founded two media companies; how do you hope to keep growing all you do?
Brock O'Hurn: Stay the course, work hard, and dream big. I think as long as my passion for films and filmmaking alike remains, I will always pursue storytelling.
Sari: Is there anything you haven't done yet that you'd like to do?
Brock O'Hurn: There are plenty of things. I guess I could start with a day off. One day, of course [laughs].
Sari: What does the future of Brock O'Hurn look like to you today?
Brock O'Hurn: I don't know what the future holds, but I have always believed I'm exactly where I'm supposed to be when I'm supposed to be there. I'll let you know when I get there.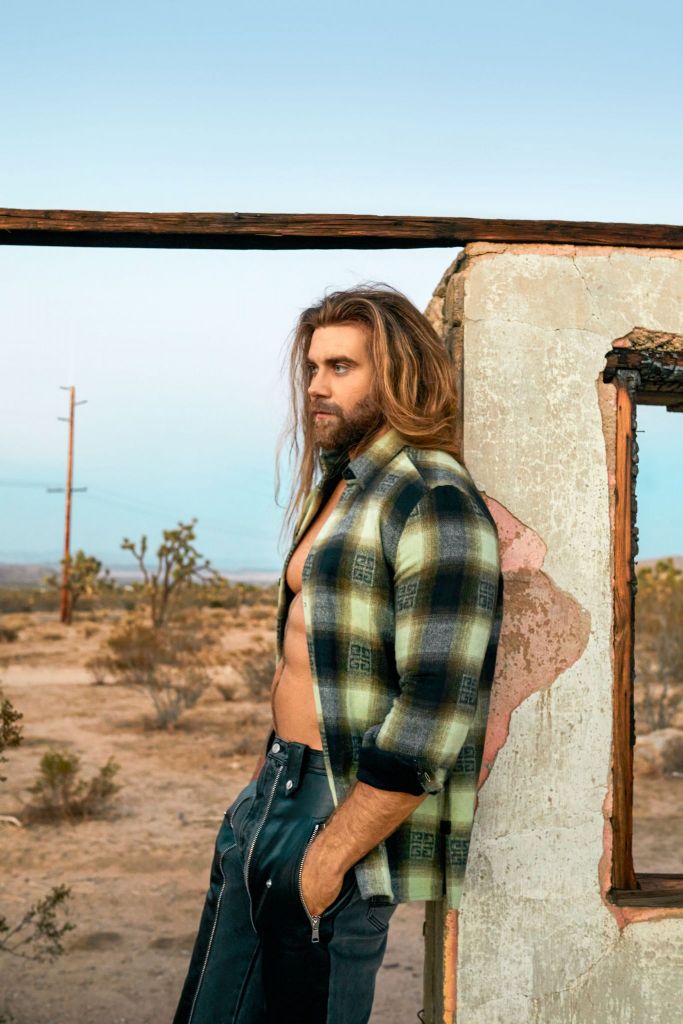 "You can't fight the desert. You have to ride with it." – Louis L'Amour.
FUN FACTS: WITH BROCK O'HURN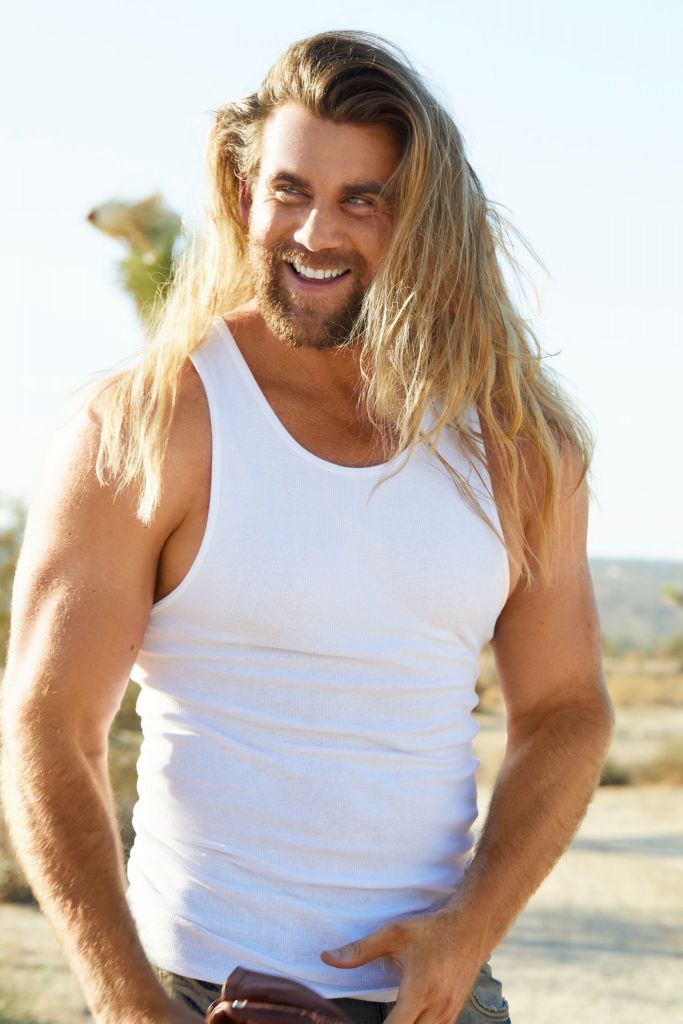 INLOVE: Favorite workout song?
Brock O'Hurn: "Seek and Destroy" by Metallica
INLOVE: Any advice the Brock of today would offer the Brock of yesterday, pre-celebrity status?
Brock O'Hurn: I guess the same thing I've always said to myself. No matter what, just stay positive.
INLOVE: Favorite meal?
Brock O'Hurn: It'll always be a great pizza.
INLOVE: Do you prefer to cook or order out?
Brock O'Hurn: I love to cook but ordering out a good meal is always a win.
INLOVE: Go-to karaoke song?
Brock O'Hurn: This one is more for the crowd. It's "I Want It That Way" by the Backstreet Boys.
INLOVE: Funniest dad joke?
Brock O'Hurn: I don't know if it's the funniest, but I like it …
A man is washing his car with his son. The son asks, "Dad, can't you just use a sponge?"
INLOVE: What is happiness to you?
Brock O'Hurn: Happiness is found in healing.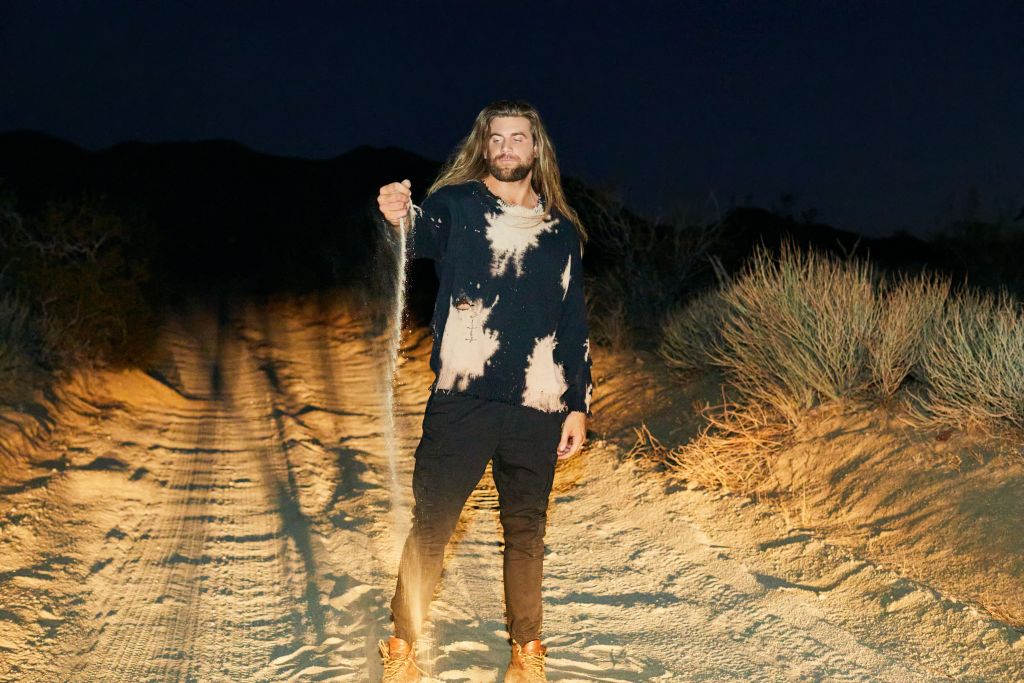 Creative Director: Elena Vasilevsky
Writer/Co-Producer: Sari Cohen
Photographer: Jessica Castro
Stylist: Malyssa Lyles
Groomer: J Michael
Fashion: Saks Fifth Avenue, Beverly Hills
Published in INLOVE Magazine Winter 2023