Before the 71st Primetime Emmy Awards on Sunday, Sept. 22, the Creative Arts Emmys will take place in Downtown, Los Angeles, on Saturday, Sept. 14 and Sunday, Sept. 15. The Television Academy recently welcomed select members of the press for a preview of what those in attendance have to look forward to at this year's Governors Ball.
For the second year, the world's greatest afterparty will be held at the L.A. LIVE Event Deck. The rooftop setting and free-flowing atmosphere allow for an elaborate celebration. The first look revealed a lavish layout as well as a decadent display of bites and beverages one could only dream of. Guests, winners, and non-winners will all get to delight in the sheer extravagance of it all.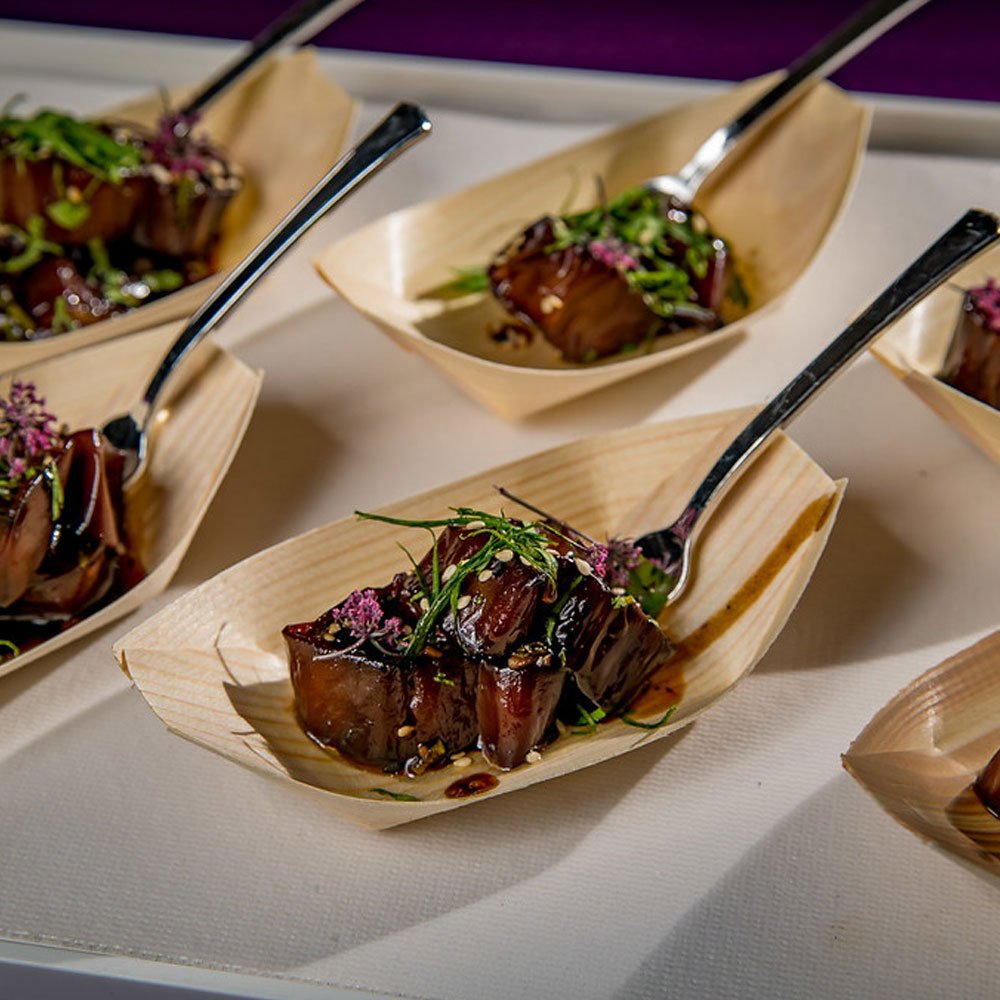 The buffet and bar stations proved to be a success last year. Naturally, this year should earn similar praise. Guests can enjoy the remnants of summertime at the inside/outside event while the big victors of the night can meander over to the Emmy Winner's Circle. As the winners are announced throughout the night, nameplates are sent over to the Governors Ball, where the grand prize winners have them fixed on their golden statues.
This year's theme is "Brilliance in Motion." Helmed by founder and president of Sequoia Productions, Cheryl Cecchetto, it was designed after majestic waters. They took the idea of a fountain and turned it upside down, creating a beautiful, colorful canopy. The ceiling is comprised of three large chandeliers. String art fabric panels highlighted with beads hang down, giving off a radiant sparkle. The color palette is made out of rich hues of eggplant, magenta, coral, and red. Of course, spotlighted, is that beautiful Emmy gold.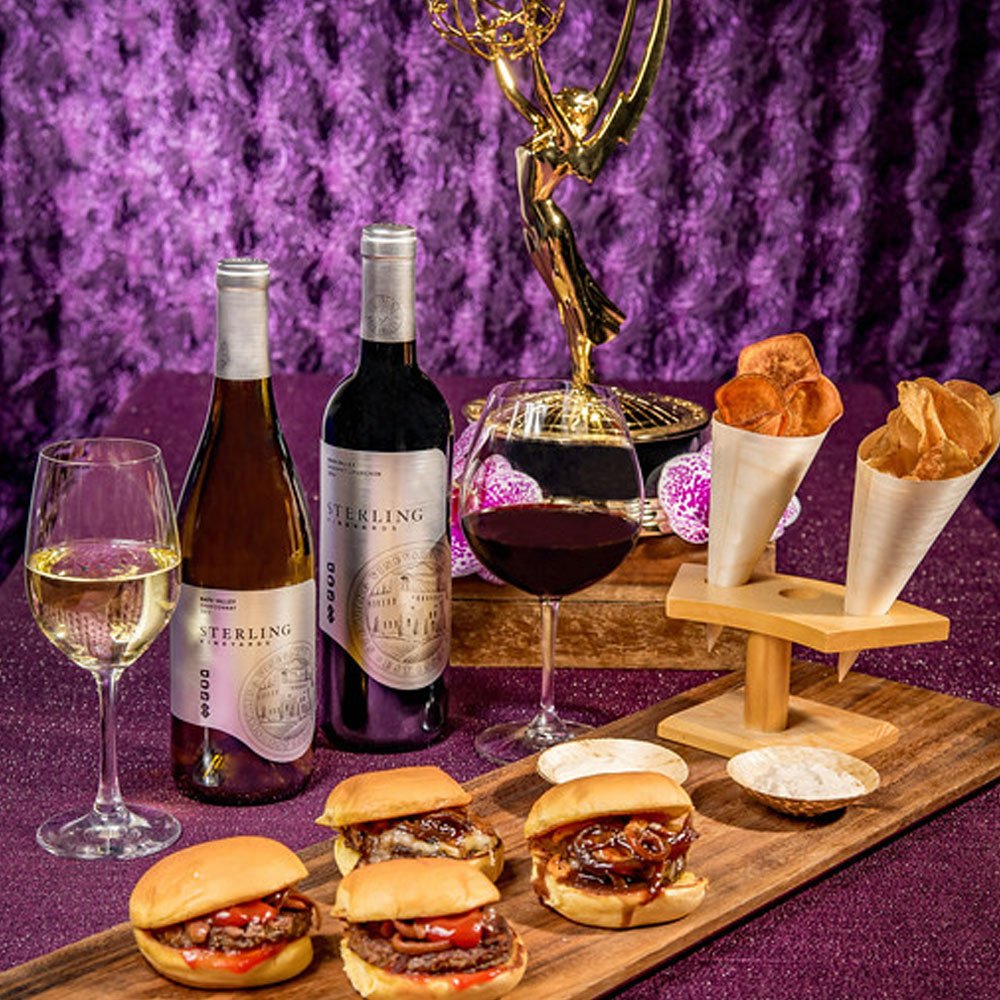 Entertainment includes talent from the Los Angeles School of Gymnastics, Embodiment & Radiance (World of Dance), and British singer James Graham. Graham is the season 2 winner of Fox's The Four. Additional artists for all three events are set to perform, as well.
"This is my first time doing anything like this, so I feel really good about it," Graham tells INLOVE during the Governors Ball Preview. The artist is currently in the studio working on new music. However, for this, he offers up a '90s throwback. As seen on The Four, Graham veers more toward soul and R&B. It's a genre that most his age, haven't exactly tapped into. "I feel like I grew up in the wrong generation of music because all of the music I listen to is from 20, 30, 40, 50 years ago. That's what I'm trying to bring a little bit of back into today. Hopefully, people like it."
In charge of the cuisine is Joachim Splichal, who is the chef and founder of Patina Catering. Small plates like the delicious tomato "tartare," the tasty Japanese eggplant and mouthwatering "street corn" ravioli, circulated around the room as guests made their way to the different stations.
Every section of the Governors Ball feels like it has its own mini eatery. Carving stations offer grass-fed tenderloin of beef, inspired by Nick + Stef's restaurant. The menu is inclusive, serving up gluten-free, vegan, and vegetarian items, too. Other options include sliders and mini milkshakes, as well as flavorful desserts. Snickerdoodle blondies, double chocolate s' more brownies, butterscotch budino, and vegan Raspberry Chia Seed Tapioca, danced their way around the room as they were all met with applause.
The Governors Ball Preview also allowed the press to mingle with some of its sponsors. Audi returns for the ninth year. L'Oreal celebrates seven years of offering up touch-ups for those in attendance. And Fiji is back for its sixth year, helping to quench the thirst of partygoers.
Other sponsors include the 2019 Sparkling Wine Producer of the Year Ferrari Trento, as well as Ketel One Vodka, who will be serving up TV-worthy tastes of The Marvelous Mule, The Dapper Dragon (GoT-inspired), The Moonlighter, and The Helmsman. Sterling Vineyards is also back with its selection of Chardonnay, Sauvignon Blanc, and two selections of Cabernet. Both the 2016 Sterling Vineyards Napa Valley Cabernet Sauvignon and the 2015 Sterling Vineyards Platinum Cabernet Sauvignon make excellent choices. The 2015 Sterling Vineyards Iridium Cabernet Sauvignon is reserved only for the Emmy winners, who will receive a personalized bottle.
Living Spaces, Don Francisco's Coffee, Lindt Chocolate, and LA Premier Flowers all have a hand in bringing this experience to life, as well. Each creates an enchanting aspect which works together to bring a bit of magic into existence.
On a special note, the Television Academy has partnered with Living Spaces. After the final Governors Ball, they will donate all of the upholstered furnishings from the event to the Hollywood Community Housing Corporation and Habitat for Humanity.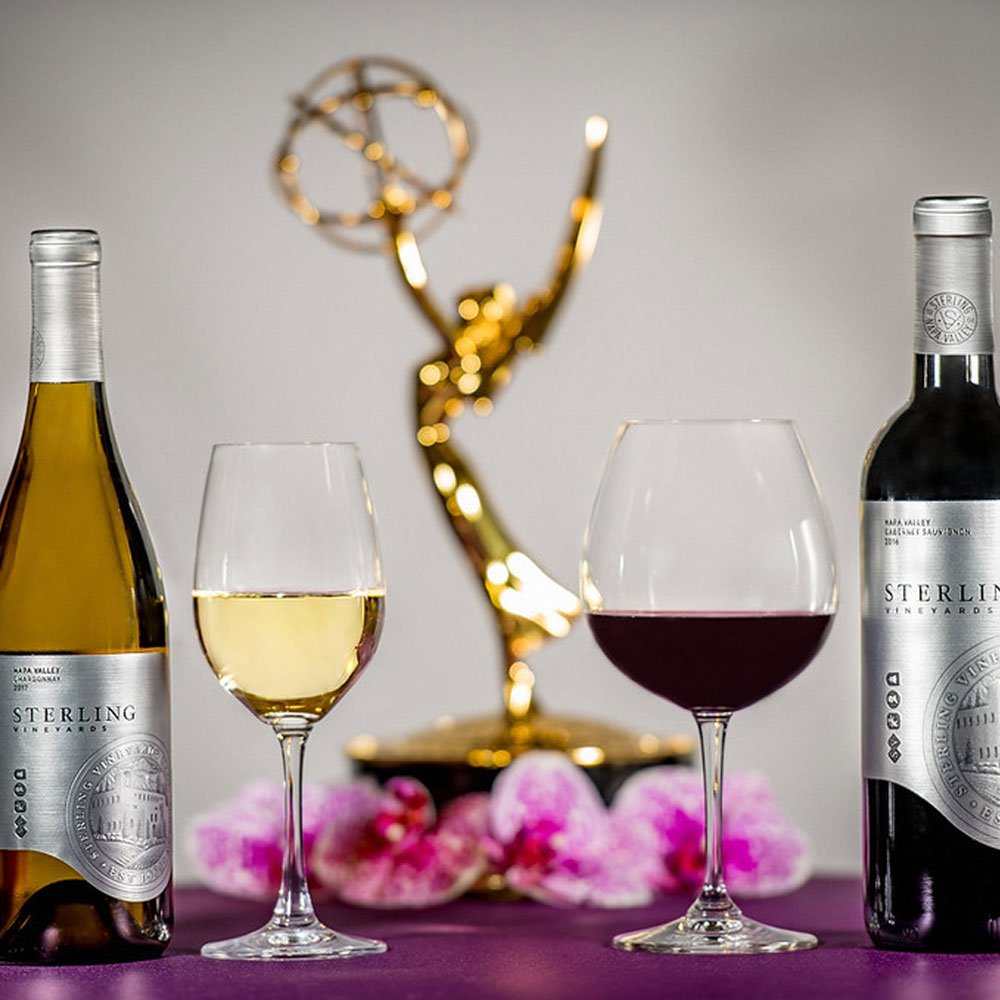 This is television's biggest celebration of the year. It's an occasion that recognizes excellence. Dazzling décor, delicious dining options, exciting entertainment, and the best of Hollywood will all converge here. The Governors Ball guarantees that everyone who enters walks in knowing that trophy or not, they've already won.
The 71st Emmy Awards airs live from the Microsoft Theater on Sept. 22 from 8-11 p.m. ET/5-8 p.m. P.T. on Fox.
Sari Cohen
All images and video materials are copyright © Television Academy.
Photo credit: Eric Reed/Invision for the Television Academy/AP Images.
Published on InLovemag.com.