When Joy Corrigan isn't busy brushing up on her acting chops with Bruce Willis, you can usually find her on some of Southern California's finest beaches. These days, she devotes a lot of her time to her clothing brand, Naked Species. Joy and her sister, Gina, founded Naked Species in an effort to put an end to the extinction of endangered species. The model/actress/philanthropist designs each inspired piece in the hope of saving the existence of some of the world's most vulnerable creatures. "That's my heart and soul right now," Corrigan tells INLOVE Magazine over the phone.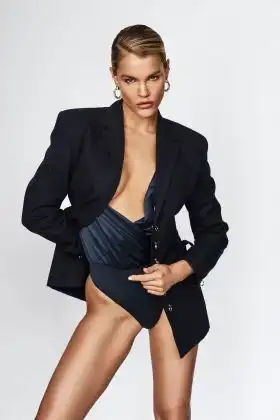 While Corrigan may have graced the pages of magazines such as Maxim France, GQ, and Playboy, life wasn't always runways and photo shoots for the blonde beauty. "It wasn't always easy," Corrigan admits. At five foot eight, agencies initially turned her away for being "too short." Corrigan worked hard to create beautiful images, which eventually allowed her to build her way up. Finally, she was traveling around the world, working in places such as Milan, Germany, Australia, and New York.
"At the time, I was very grateful and excited. But, I always strive to achieve better," Corrigan says. "It's about hard work and where your heart is at, just as much as it is about the milestones you make. Happiness is doing what you do every day; it's definitely not a destination, you know. I do have to pinch myself sometimes," Corrigan laughs. "I get to go to these incredible, exotic locations and shoot with such cool things. One time I shot with a Python, which was kind of scary, and another shoot I did in Columbia, I was on the back of a horse. That was awesome because I love horses. I grew up with horses."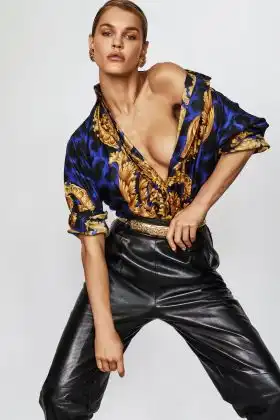 Corrigan comes from a large family and had a humble upbringing. She falls fourth on the ladder of ten children: six brothers and three sisters. "We all grew up on a farm in North Carolina and were homeschooled. So, we had a very different upbringing than what is considered 'normal.' I didn't realize this until I got into the real world, and I noticed that not everyone thinks as we do," Corrigan pointed out. "I kept all the values my parents instilled in me. I kept it close to me, and whenever I would ever question myself, I would know that I always have my family's support. I really think, without them, I wouldn't be where I am today. That's a strong support system. Plus, growing up on a farm, being around animals, being around nature, and having my best friends as my siblings, it was really fun."
The leap that she and her sister made to Naked Species seemed to be a natural move. "I've worked in the fashion industry for a while, and [Gina is] really good with business, so we decided to partner up and create this clothing brand," Corrigan explained. "The premise of the brand is that we give back ten percent to endangered species, through Wild Tomorrow Fund. It's a charity that's working in the field right now doing amazing things there. We knew we could make really cool clothing that people want to wear but also give back and change the world in a way. So, what I do in my free time, is I actually get inspiration from photos of endangered species, I will paint them, or I'll draw them, and then I'll capture them digitally, put them on the computer, use Photoshop, and I'll design them onto tee shirts and hoodies and super fun things. Everything has an endangered species tied into it, whether it's the name or the whole aesthetic."
On top of her clothing line, and the extremely useful quarantine tips she's been giving out, Corrigan is looking forward to the day when she gets to work with her favorite co-star again. She and Bruce Willis starred together in "Reprisal" in 2018, and have been awaiting word when production will resume on their second film together. Corrigan says it's his work ethic and his confidence that she loves most about working with him. That, and "Pulp Fiction," happens to be one of her favorite movies.
As far as where she ultimately hopes to go in the future, she sees herself veering more toward acting. "I love modeling," Corrigan acknowledged, "but I find with acting, there are more dimensions and challenges. That's more rewarding for me."
Right now, as most productions are on hold, she turns her attention to the things she can influence in a positive way.
"I think right now we just need to encourage each other, and more than ever give love and support on social media," Corrigan tells INLOVE. "I think that's just so important with everything that's going on. I hope that more people put out positive messages and positive comments. I've noticed there's been a decline in positivity so, I've been trying to put out positive messages every day. I just hope everyone else does. I think it's so important to connect with each other."
We are 100 percent INLOVE with that. Spreading positivity is a message we can all get behind. A little hope and Joy is enough to brighten anyone's day.
Sari Cohen
Published on INLOVEMAG.com