Ed Quinn has one of the most familiar faces in Hollywood. For over 20 years, he's been starring in fan favorites like "Eureka," "True Blood," "Revenge," "2 Broke Girls," "One Day at a Time," and Tyler Perry's "The Oval." Apart from being a permanent fixture on our TV screens for the past two decades, Quinn is also a musician – with a new album soon to be released. We dove deeper into this multitalented California native's life and discovered what makes him Hollywood's "Quinn"tessential leading man.
Quinn already had a long list of credits under his belt before he booked the role of Nathan Stark on SyFy's "Eureka" in 2006. The show was the first commercial hit for the network. "It was a big swing for them," Quinn tells INLOVE Magazine. "They wanted a show that wasn't spaceships and aliens, but there was a lot of concern about doing an expensive 'dark comedy.' No one thought it would work. There were a lot of power struggles behind the scenes, but then it became the No. 1 rated show in the history of the network. That number still stands today, and that's a testament to the loyal fans who loved that crazy show."
Quinn has been in numerous shows with loyal fanbases, such as HBO's "True Blood." In the second season, his character [Stan] joined the cast only to meet an untimely demise. "I came into the show [in 2009], right as it was becoming this global hit," Quinn recalled. "The first season came in a little under the radar, but then it became this cult sensation, and the lovely Anna Paquin won the Golden Globe. The next thing you know, it is the hottest television show. It was really fun to be a small part of a show that was exploding. Couldn't have happened to a nicer bunch of people, too. Everyone on that show was lovely."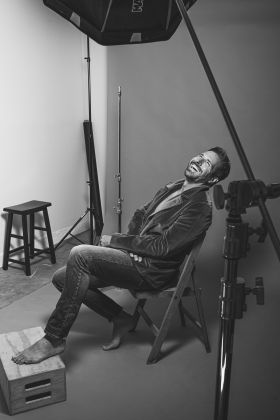 Blood Loss
"True Blood" fans may be interested to know that Quinn had his heart broken on the show. He wishes he could revive the character of Stan because the storyline never got the chance to see its full potential. Stan was a key character in the books. Not seeing that play out on screen left fans, and Quinn, fiending for more. "Getting the role was a big deal," the actor revealed. "I was ecstatic. And the role was massive. Stan and Eric [Alexander Skarsgård] were going to war against each other. Massive battle. Sadly, before we even started shooting, a storyline had to be cut from Season 2. It was too long. And they chose mine. They didn't want to cut Stan completely, so instead, it was truncated – dramatically. Broke my heart. I still had a great time. Everyone was super sympathetic and commiserated with me."
Eureka!
Stan isn't the only character Quinn would like to revive and give their own show. You can bet Nathan Stark is on that list, too! That character was actually supposed to have his own spin-off at the end of Season 2. "Long, sad story short, the creators decided at the end of Season 1 that Nathan would 'Save Eureka, but be exiled. For his sacrifice, he'd take over a government lab that dealt with the paranormal and occult.' I was thrilled," Quinn shared. "Loved the character, loved the show, couldn't wait. But, Hollywood is a cruel mistress. Shortly after being informed of these glorious plans, the creator and writers left the series. The show's tone and direction changed, and the spin-off never happened."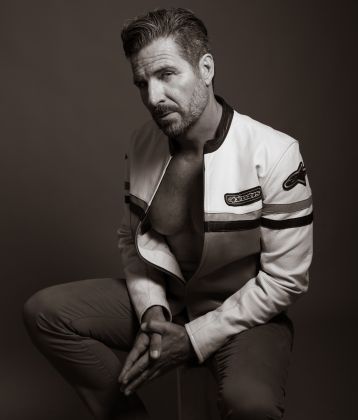 King of the Castle
Quinn recalls another one of his favorite roles, playing Gabriel Winters on "Castle" in the episode, The Final Frontier."It was an episode about a washed-up sci-fi actor whose hit show was canceled," Quinn teased. "The Castle crew built the most insane set ever for the episode. The brilliant Kate Sargeant, who wrote the episode, wanted to write a 'Nebula 9' pilot and shoot it for the internet. It would have been hysterical. And it almost happened, but we just didn't have the time. Sets go up but must come down for the next episode. I agreed to work nights, weekends, and off-the-clock to do it, but it just wasn't feasible."
Sari: So, what's your favorite genre to get into and why? Sci-fi? Drama? Comedy?
Ed Quinn: I honestly don't care. I just want it to be fun. I've been really fortunate to work in lots of different genres. If I had to pick one, I'd say sitcoms. I love the pressure of the live audience.
Sari: Tyler Perry had a brilliant idea, the way he picked up production during the pandemic. What was it like being a part of that?
Ed Quinn: Tyler Perry is a visionary. And it doesn't matter what project he's focusing on, what endeavor he's tackling, or what the world throws at him. He transcends. The idea of getting 366 cast and crew members into a bubble during a global pandemic and safely shooting not one but two seasons of a show sounds like a movie. And it was. That's what it's like working with Tyler. Movie magic. I'll be forever proud of being a small part of that accomplishment.
Sari: What can you share about working on "The Oval?" What have these relationships meant to you?
Ed Quinn: The best part about this show, for me, is watching the fans watch the show. On show nights, I just watch the #TheOvalOnBET hashtag on Twitter and laugh non-stop. The show is bananas, the fans LOVE it, and their reactions are truly priceless. Every show ends, but when "The Oval" ends, I will mourn the Twitter feed the most.
Sari: Season 3 is airing right now. What can you tell us about the direction of your character?
Ed Quinn: I can tell you, Hunter goes dark. The pressure of the Office, Victoria's parent's ambition, and his damaged children become too much. I was frightened to read Season 4.
Sari: I've had the privilege of interviewing Norman Lear a couple of times. I have to ask you about working on "One Day at a Time." How cool was it to be part of a show's revival as epic as this one? What was your favorite part about that?
Ed Quinn: I'm a huge fan of old Hollywood. Of "Show Business" in a nostalgic sense. So to work with Norman Lear, after growing up watching all his groundbreaking shows, was truly special. But it was also just an amazing experience. The show was so good, it had so much heart, but it had to fight hard for its survival. The television landscape is a harsh one, and the show never caught a break. But the fans, and everyone who worked on it, know it was magical. Those episodes will stand the test of time – just like all of Norman's shows.
Sari: Let's talk music now. You are a hard rock guy, which I love. Tell me about your love for music and how that developed? How do you balance music and acting?
Ed Quinn: I was lucky. Growing up in The Berkeley Hills, everyone I knew played an instrument. It was like a part of the culture of being a punk kid in Berkeley. You had a skateboard, a BMX bike, and you had to be able to play guitar, bass, or drums. And it was the early '80s, so it was all about rock 'n' roll. It's not really a balance with my acting career; it's more of a complement. My job is acting, that's my career, but the Berkeley kid with a case of arrested development loves making some noise.
Sari: It's so cool that you've studied with Joe Satriani. What were there three most important things he taught you?
Ed Quinn: No. 1– Talent is not enough. You also need tenacity and timing. Everyone studying with Joe knew he was as good as, if not better than, our heroes. And I'm talking to Eddie Van Halen and Randy Rhoads. He had his band The Squares but would tour as a hired gun to pay bills. He never stopped hustling.
No. 2 – Stay Humble. Joe taught a ton of legends [Kirk Hammett, Alex Skolnick], but he also taught a lot of snot-nosed kids – like my friends and me. He was very invested. He held us to the same standards he held himself.
No. 3 – The entertainment business, performing arts and music, is tough. It isn't fair. So many brilliant artists you meet along the way will never make it. So relish any and every opportunity you get.
Sari: Are there any other rock idols you've gotten to jam with that had you starstruck?
Ed Quinn: Okay, I'm not going to drop too many names here, BUT, the late great Paul Allen [co-founder of Microsoft] was a huge "Eureka" fan. So, I got invited, several times, up to his legendary house in the Hollywood Hills. The main house was this massive home, and then you took a gondola down to his whole other home that was basically just for parties. It had this giant stage all set up for live performances. Paul LOVED music. He had this great band, The Underthinkers. And he loved to bring up all his guests up to jam. It was nuts. And the Who's-Who of the music industry would show up. The parties always seem to start late, and then these endless jam sessions would go into the wee hours. I'm talking Mick Jagger, Axl Rose, Courtney Love – you name them, and they were probably there. I don't have so much as a picture from those nights, but I'll never forget them.
Sari: Tell me what we can expect from the new music you're recording with your hard rock band,SUPER EQ?
Ed Quinn: Well, for starters, it's now called "SuperEQ and the Swamp Metal All-Stars." Which is ridiculous and makes no sense but makes me laugh. As I am doing this interview, I am literally in the middle of recording a new album in my new studio. I'm actually really excited. It's so hard as an unsigned artist to get anything right in the limited amount of time you get in the studio. I think in my whole life, I've maybe recorded three songs that came out "pretty good." Hopefully, this will be different. For starters, this will be the first time I'm working with a producer that actually has the same musical taste that I do. And he's my studio partner, Adam Cameron. Adam is a legend. I think the maturity my drummer James Austin and I have now, coupled with Adam's expertise, could be very advantageous. New songs, old songs that were never done right, and a few funky covers. Can't wait.
Sari: As a California native, who's your favorite musical artist to come out of California?
Ed Quinn: There are so many, but I'm just going to say Eddie Van Halen for one reason – the joy. No one played with more joy than EVH. He will be missed.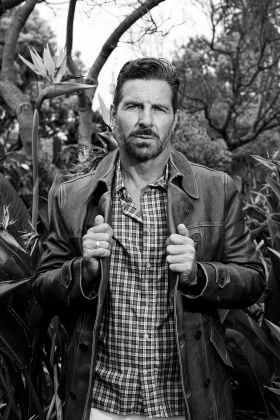 What Are Five Fast Facts Fans Should Know About Ed Quinn (But Don't?)
1. I drink like a pirate – rum or tequila.
2. I've been bitten by a rattlesnake and a tarantula, stung by a scorpion and a Portuguese Man O War, and stepped in a hive of Yellowjackets. I'd like that chapter of my life to be over.
3. My favorite candy is Jordan Almonds, and I don't care what you say.
4. I've only owned four vehicles my whole life. All pick-up trucks.
5. I hate daylight saving time
Photographer: Eric Johnson
Written by: Sari Cohen
Published with INLOVE Magazine