"The Tax Collector" is out on August 7, and star Cinthya Carmona, couldn't be happier about it. Apart from Shia LaBeouf, who has a substantial supporting role in the film, director David Ayer made sure to piece together a mostly Latinx cast. LeBeouf and Carmona star alongside Bobby Soto, George Lopez, Lana Parrilla, Chelsea Rendon, and Jose "Conejo" Martin.
"'The Tax Collector' takes place over two days in the life of David Cuevas (Bobby Soto), who runs an organized crime group in Los Angeles, collecting taxes from different gangs with his partner, Creeper (Shia LaBeouf)," Carmona explains to INLOVE. "However, he's a family man, and we see how different his life is at home with his wife, my character Alexis, and kids. When a new boss tries to take over the streets [Conejo], our lives are shattered, forcing David to fight with all he's got."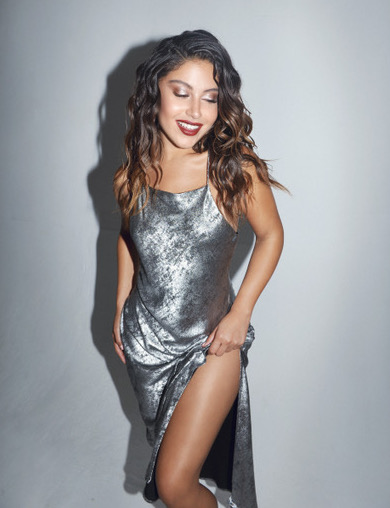 Sari: What did the breakdown read like when you auditioned for the part?
Cinthya Carmona: I play Alexis Cuevas, David Cuevas' wife and mother to two beautiful kids. We live what you can call the Mexican-American dream, and Alexis will always somehow remind you she does. However, we learn that behind the picture-perfect world, Alexis is no stranger to the kind of sacrifices that need to be made to support her family's lifestyle. When I met the director [David Ayer], we basically had a conversation, and he said, "you two have that ride or die kind of love, you're this little bad-ass who holds down the family and especially your husband who is out there walking through fire daily. In two days, a lot of f'd up stuff is gonna happen to you."
Sari: What was it like working with Shia LaBeouf?
CC: I've always loved Shia's work, so working with him confirmed that even more. He is definitely one of the most authentic actors I've ever worked with. He's raw, present, and very giving to anyone in the scene with him. Our characters in the film [Alexis and Creeper] don't get along at all, and we purposely stay away from each other, which was really interesting to play.
Sari: You also have "Reefa" coming out, which seems like an incredibly timely story to tell. Talk to me about the film and what kind of impact you think it will have being released now?
CC: "Reefa" is the true story of the 18-year-old Colombian graffiti artist who was killed in 2013 at the hands of police brutality for spray painting a wall in Miami. We get to learn about what happened days before and the tragic night of August 6, 2013. It's an incredible story, and we were actually supposed to have our premiere the day lockdown started due to COVID-19. With everything that has happened, specifically in the last four months, the death of George Floyd, Breonna Taylor, and the wave of police brutality around the world, now is the perfect time for REEFA's story to be told. Art is not a crime, and the cops involved in REEFA's death were never charged. This story is a step in a 7-year fight to bring justice to REEFA and his family.
Sari: I also want to talk about your role in "Deputy" and what it was like booking that part?
CC: "Deputy" was a lot of fun, and I also got to work with David Ayer again, which is always cool. I played Nurse Julie, and from the beginning, I was told I'd be the love interest of Bishop, played by Bex Taylor-Klaus. I was so excited because Bex is freaking awesome, and I love them and their work. Also very cool because Bishop is the first non-binary character on network television, and to be a part of that was such an honor! I really believe we need to see more non-binary characters portrayed in film and TV, and this was such a great step in the right direction.
Sari: What's one quality you're proud of that working in this business has instilled in you?
CC: Resilience, one hundred percent. I've always been a hardworking, very ambitious person who didn't let other people's opinions sway me. However, it wasn't until I really started working in the industry that I learned how vital it is to not only have a thick skin but also to recover quickly from difficulties. While this business is such an incredible gift and has many rewards, a lot of it is failure, rejection, and a rollercoaster of ups and downs. Falling down and getting up even stronger is what I'm proud of. Resilience.
Sari: What makes you love what you do?
CC: I am a very curious person. I question everything. I love to read and learn new things and love that my work allows me to explore so many different kinds of people and backgrounds to learn from. But most of all, I love that I can be a vessel to someone else's story. That someone out there will watch my work and identify with that character and that it moves them in some way,
Sari: I know you're also a big music fan. What are the top songs are on your playlist right now?
CC: I have become pretty obsessed with soundtracks, so currently, it's "LHNA" by RobGz and Anuel AA, "By the River" by Stu Larsen, and "Love & Hate" by Michael Kiwanuka. All from "The Tax Collector" soundtrack. Also, Conejo's album, West Adams.
"I feel like in this day and age in the madness of 2020 and the pandemic, it's so important to be gentle with yourself," Carmona tells INLOVE Magazine about her future plans. "To slow down and take things day by day. Right now, I'm working on my mental and physical health as much as possible by being creative every day. I'm writing my first script and working on a project close to my heart in Barranquilla, Colombia, that I will be sharing with everyone soon."
Sari Cohen. @thesavvyscribbler
Photo by : Eran Levi @levieran88
Hair : Eden Yerushalmy @edenyeru
Makeup: Netta Szekely @nettart
Styling: Talia Balistra @tbalistra
Published on INLOVEmag.com.