If traveling is on your post-pandemic list of things to do, the JW Marriott Cancun Resort & Spa in Mexico should be your first stop
I was three bites into my meal when a fellow traveler at the dinner table sitting next to me turned and said, "Have you ever had grasshopper before?" As I carefully swallowed one of the most delicious things I had ever tasted, it struck me – I had not examined the menu close enough to see what was on it. I had been too overwhelmed by the intimate beachfront setting and the tasty mezcal paired with the meal – not to mention the sheer excitement about the ability to travel fully-vaccinated post-2020 again – to even think twice about what I was eating. At that moment, as I glanced over what was on the rest of the menu for the night, I knew I would be trying things on this trip that I would never have imagined doing two years ago.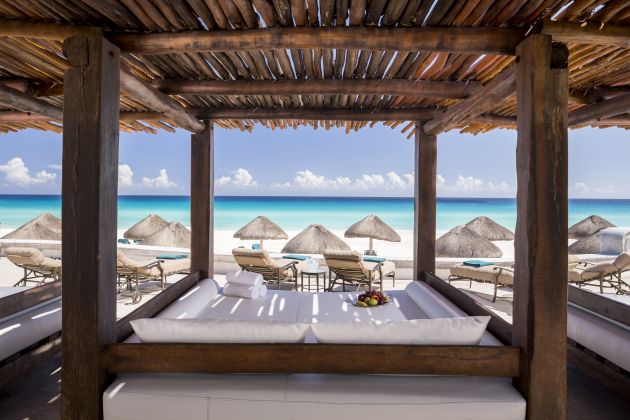 Come Away With Me
It was my first night in Cancun, and we were having a private dinner at Sacbé Beach Shack. Our five-course meal consisted of authentic cuisine from Oaxaca. The southwestern Mexican city is over 900 miles from where we were, but the local delicacies had been delivered to our table with special care and preparation to celebrate our arrival.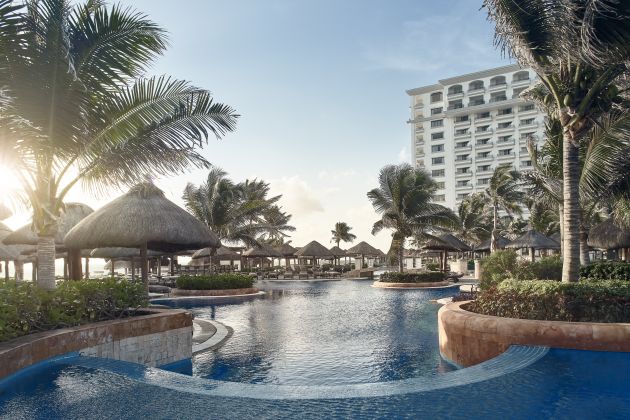 Before dinner, we spent about an hour mingling with some of the friendliest staff you'll ever meet, as we sampled some of the resort's famous specialty drinks – it's possible that this also could have contributed to my willingness to try new and unfamiliar things. JW Marriott Cancun Resort & Spa is known for its wide-ranging collection of tequila and mezcal. They've got 150 margaritas on the menu, making this place a tequila lover's dream.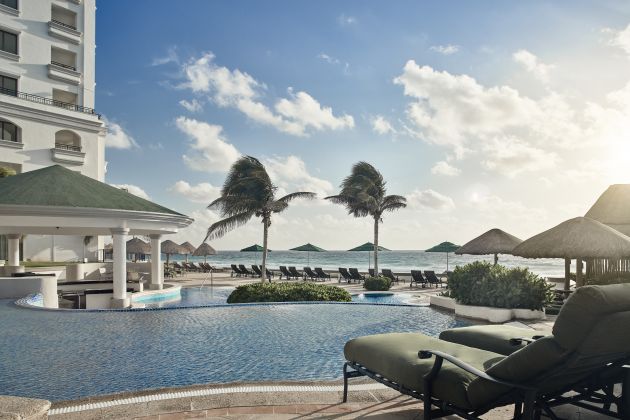 As a tequila-lover myself, I had fully intended to finish every drink laid out in front of me, but there was so much to choose from, I couldn't resist the appeal to sip, taste, and try another. One drink was more delicious than the next, and I didn't want to skip over what could become my new favorite cocktail. Inevitably, I found it in the Tamarind Rita. The sweet and tangy marg is smooth (made with Espolon Bourbon Reposado) and carries a little kick. The beauty of this place is that you have so many options, you're bound to find your perfect match. There's something on the list for everyone. Whether you prefer classic, modern, fusion, or exotic, flavors range from sweet to spicy and everything in between. The multitude of margaritas on the menu are eclectic enough to satisfy any craving.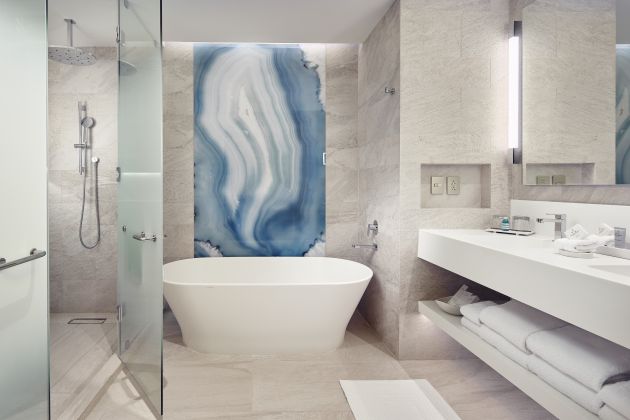 A few sips in, and I was finally feeling at home. Cancun had called, and I answered. After the constraints that 2020 had put on all of us, stepping out into the once-familiar world felt like a new and inviting experience. I was going to shake hands with the unfamiliar and make it my friend. After all this time, my wanderlust was met with several days packed full of adventure, and I would not say no to any opportunity. The JW Marriott Cancun Resort & Spa was now my haven. This week I had decided to say yes to life. It all started with some mole and mezcal.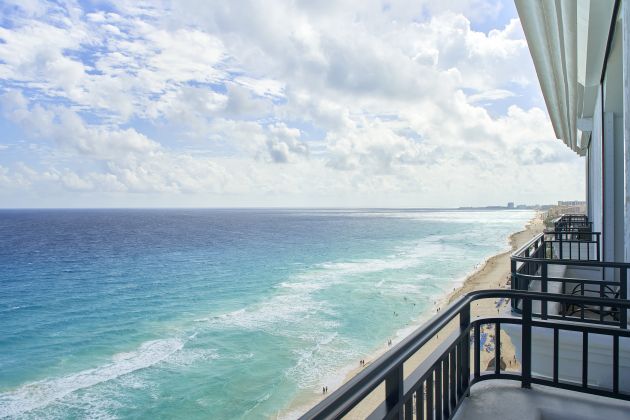 A Room With A View
JW Marriott Cancun Resort & Spa is the happy place between comfort and luxury. It's located in the heart of Cancun's Hotel Zone and is home to one of the most gorgeous beaches in the city. The property was built in 2001, and in 2019 saw a $40 million renovation, turning it into a perfect dream destination. The grounds are breathtakingly beautiful. You can spend your day in a cabana or opt for a poolside destination in one of their family-friendly or adult-only infinity pools. The sister hotel – Marriott Cancun Resort – is right next door, conveniently offering up even more to explore during your stay.
I stayed in the JW Junior Suite, complete with a King, a sofa bed, and a balcony. Each room here comes with an ocean view but standing out on the balcony in your own space, you would swear the view was custom-made for you. The decor is rich with sand tones and bursts of blue, giving off "the best vacation ever vibes" the moment you step into it. I was hit with a rush the moment I walked in. I had entered my Zen zone. My oasis. I could be perfectly content spending the entire week just in my room. After nearly two years of lockdowns, the importance of a room holds a lot more power than it ever did before.
All throughout the hotel, sanitizing stations and COVID-19 precautions were set up. My room had been thoroughly cleaned, which immediately put any of my pandemic-traveling worries to bed – so to speak. The ocean view called to me first. I slid the balcony door open and was hit with a rush of tropical air. As the breeze washed over my body, I took a deep breath in and inhaled the scenery.
The space comes fully equipped with every amenity you could possibly desire. There's a living room, a bar, and a bathroom with a separate shower and tub. It resembled more of a spa than anything else. The room itself is more of an experience. Listening to the waves crashing at night, as you rest your head on some of the plushest linens you've ever felt, comes with a price tag that knows no worth. How much money would you pay for peace, comfort, and beauty all rolled into one?
The rooms are great whether you're traveling solo, with your significant other, or with your family. There are 13 different rooms to choose from here. Each one offers something a bit different from the next. My advice: find a room that matches your energy and rises to meet the experience you hope to have. This is a place where indulgence meets functionality. There is a fit for everything you're looking for.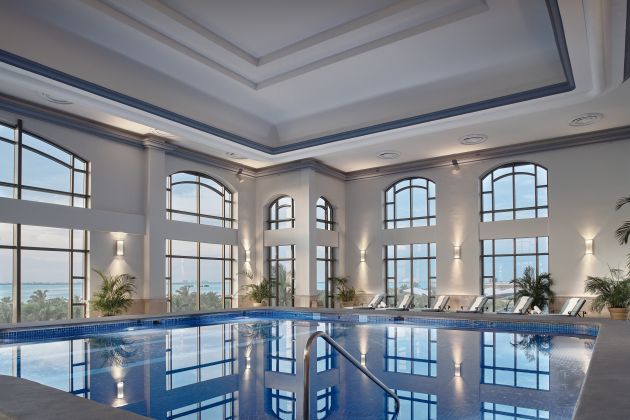 Just Winging It
I had arrived, and I was determined to challenge myself – to step out of my comfort zone. First on the books was a parasailing adventure. Parasailing was a new one for me. What would usually be a resounding "no," when asked, came out as an emphatic, "yes." What had I agreed to? Soaring through the sky with nothing more than a seat, a buckle, and an ocean below me? How was this suddenly a good idea?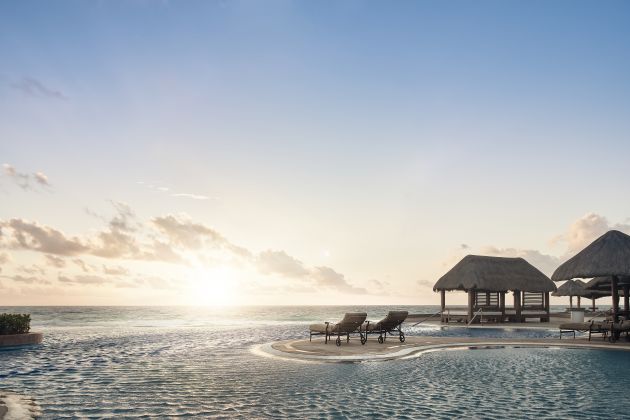 Stepping into adventure became a reality as easily as I could put one foot in front of the other. All you have to do is walkout by the pool, and adventure awaits. "Discover a new passion," the sign read. Why, yes, I think I will. With Aquaworld, you can choose any number of water activities.
After a nice, healthy walk along the beach, we were greeted with a jet ski that raced us out to a boat in the middle of the ocean. In years past, I would have reached my excitement limitations on the jet ski alone, but I broke through my boundaries and forged forward into uncharted waters – in every sense of the word.
Before I knew it, three of us were strapped next to each other, flying through the air, feet dangling over the sea. At that moment, there was no greater sense of freedom and accomplishment than jumping into an experience that terrified me.
It occurred to me on this excursion that life was at my fingertips. All I had to do was reach out and grab it. Here I was, traveling again through a global pandemic, and I felt safe. I had the power to choose my own adventure, and I was not going to let it pass me by. If there's anything this past year has taught me, it's to do the things you wouldn't normally do. How do you fall back INLOVE with life after you almost lose everything? This. This is it.
Cenote Experience
As someone who has experienced the Yucatán before, I was no stranger to the cenotes in the region. With more being discovered all the time, there's always plenty to explore. Cenote Zapote EcoPark is by far one of the most diverse excursions you can opt for. The history of these sites alone is unmatched, but add in that awe-inspiring beauty, along with the completely different feel of each of the three cenotes, and you will have thought you entered some sort of prehistoric paradise.
The beauty here is that you can go at your own pace (mind the other tour groups). You can be as adventurous as you'd like. Rain or shine, Cenote Zapote is accommodating and full of picture-perfect opportunities. This is a jungle adventure like no other. Feel like zip-lining? Great. How about riding ATVs? No problem. Just want to float in a cenote? Sure, why not? Here, you can fly above the trees, jump from a platform, or coast through ancient caverns while you move at your own speed.
Your experience here is custom-tailored to suit your speed, and there's plenty of history to get lost in along the way. To top things off, at the end of your Riviera Maya adventure, awaits a giant palapa with authentic Mexican cuisine. Here, you are immersed in the culture, beauty, and culinary delights of the region. After a day in the jungle, every bite tastes more exquisite than the next, almost as if each one was crafted to complement your surroundings perfectly.
Side note: Cenote Zapote gets bonus points for the bathrooms. When you're traveling during a global pandemic in the jungles of Mexico, cleanliness, and comfort is a luxury you want to be able to afford. The bathrooms here are spacious and spotless, feeling newly renovated and surprisingly sanitary.
If traveling to Cancun is on your list of things to do, and adventure is on the menu, I would mark this stop at the top of my list. The tour guides are friendly and knowledgeable, and the beauty is unbeatable.
The Happenings At Chambao
To properly experience Cancun, stepping out and getting a vibe for what this city has to offer when it comes to dining experiences is essential. At Chambao, you get a sense that is where it's all happening. "Bad Decisions Make Better Stories," the sign above a sofa bed read upon entering. The Instagrammable stop was the first of many at this restaurant. If you could imagine a circus, a fashion show, and the ultimate fine-dining experience all rolled into a night out, that would be just the tip of the iceberg when it comes to describing the atmosphere here.
Food is served in shareable portions, and the options do not disappoint. Specialty drinks are made as an experience, and the ocean view is spectacular whether it's night or day. The nightlife here certainly calls in a crowd. The staff moves table to table with bottles and flare bigger than the clubs in Las Vegas.
The must-see attractions here are the silk aerialists. Acrobats dangle from the ceiling over the ocean, dancing with delight as you move through your meal. The daring display is as enticing as the cuisine. Cozy yet spacious, Chambao offers a jungle-chic vibe that's as rustic as it is opulent.
This restaurant is a meat-lovers delight, offering exclusive beef cuts made to satiate the most delicate of taste buds. You can try meat from around the world, three different lobster options, or one of their rare seafood dishes. Senegal shrimp, Ōra King TYEE salmon, and Mediterranean cuttlefish are all on the menu here. Bigger is better at Chambao. Every dish is made to serve with a splash of sparkle.
Home Is Where The Heart Is
JW Marriott Cancun Resort & Spa is a place where you can really treat yourself. It's a place where you feel at home. Whether you're traveling for work or leisure, it has everything you could ever want for – and a few things you didn't even know you needed. Spend an afternoon in their award-winning spa. Enjoy any one of their signature treatments, swim a lap in their indoor heated pool, take some time in a steam room, or simply unwind in a jacuzzi. Tennis courts are also on the premises if you're feeling extra ambitious.
If you want to take full advantage of the outdoor beauty, spend an afternoon by the sea. Enjoy ceviche on the beach in a cabana. Work, relax or enjoy time with your family. The view is like a work of art. Everything you could dream of is right there in front of you. The food is above par, and the specialty drinks are divine. You will never feel more alive.
When choosing a resort, food is an essential part of the decision-making process. This is another area where JW Marriott Cancun Resort & Spa wins. Restaurants like Gustino Italian Grill offer some of the best Italian food you could dream of. If Italian food isn't your thing, not to worry, there are options that will satisfy any craving. Southwestern Sedona Grill is the perfect way to start your morning. The Beachwalk is ideal for a poolside pick-me-up. The Gift Shop and 750 Pizzeria is great if you're on the go. There's also Kasai Izakaya & Ramen Noodle Bar, Sasi Thai, and Mikado. Each restaurant has its own signature dishes, and all are full of pleasant surprises.
Live Your Best Life
If you're in the space where you're ready to travel, it is time to live your best life. JW Marriott Cancun Resort & Spa is the spot to do that. When it comes to places to stay in Cancun, there are plenty of options, but none that I have ever experienced was as special as this one. The team here is as much of the experience as anything else. They go above and beyond to ensure that you feel safe, comfortable, and most importantly, you enjoy yourself.
You'll find happenings throughout the entire resort. Stop at the Lobby Bar and enjoy a band. Or, sing your heart out on stage at Champion's Sports Bar. Karaoke was on my list of things that terrified me, but as I quickly learned, in good company, anything is possible.
Now is the time to toss away your inhibitions and do the things you wished you could do last year. Put the "what-ifs" and "why-nots" aside. Try things that scare you. Of course, I wouldn't recommend doing anything dangerous to your mental or physical health but dare yourself to do something different. It's always the things you'll regret not doing in life, not the things you did.
Link to the Hotel: JW Marriott Cancun Resort & Spa
Written by: Sari Cohen
Published with INLOVE Magazine