When We Were Young
"I've always been myself, no matter what age or what I was doing," Avril Lavigne tells INLOVE, reflecting on her career. "I've always been a massive fan of music across so many genres, and I write songs that come naturally to me. A lot of the time, when I write, it comes out aggressive and angsty, but other times it is vulnerable and sensitive. Sometimes you will get ballads from me, and sometimes, you will get songs where I am venting about love. I try not to overthink it."
It's been two decades since the award-winning Canadian singer-songwriter changed the game with her debut studio album, Let Go. In 2002, the "Complicated" singer altered the music landscape with her pop-punk sounds and distinct style, bucking against the pop norms of the early '00s.
Early in her career, fans and critics tried to label her style, dubbing Lavigne the "Princess of pop-punk" and categorizing her as "post-grunge," comparing her to artists like Alanis Morissette. But, the "Sk8er Boi" singer made it clear from the jump that she would make her own rules – and that she has – as she consistently defines and redefines her voice with great success.
In 2022, Lavigne released her seventh studio album. Love Sux (her first under Travis Barker's DTA Records) features vocal collaborations with artists like Machine Gun Kelly, Blackbear, and Blink-182's Mark Hoppus. Songs such as "Bois Lie" and "Bite Me" tap into the nostalgic sound Lavigne embraced 20 years ago, inspiring a new generation of girls with her empowering progressive pop-punk ways.
While Lavigne continues to headline festivals worldwide and put out new music – like her single "I'm A Mess" with Yungblud (featured in the deluxe version of Love Sux) – she reminds everyone why she is, and always will be, pop-punk royalty.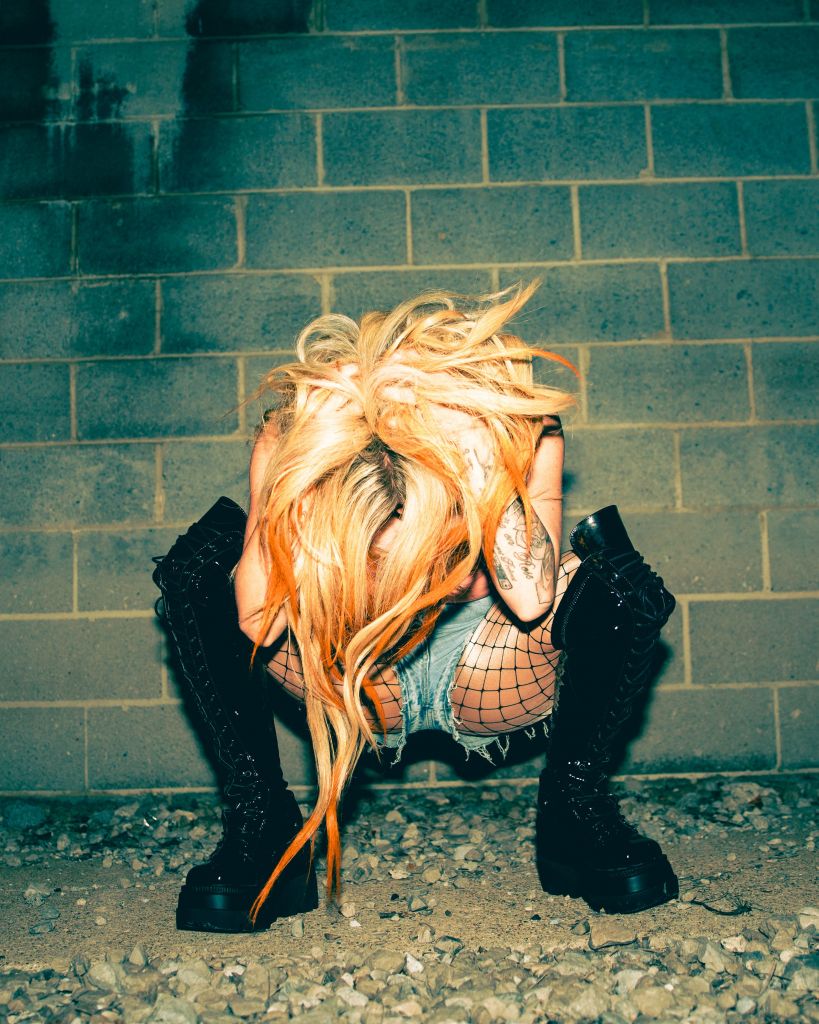 Sari: People have tried to fit you into a genre, but I love how you have always called your own shots. How would YOU classify yourself as an artist, and how has your view of that changed over the years?
Avril Lavigne: I've always called myself the Mother Fuckin' Princess because I am my own boss [smiles]. My view hasn't really changed much, other than the fact that I started out as a 17-year-old, and I'm a woman now. Different emotions bring out different styles in me, so it all depends on how I'm feeling.
Sari: You were breaking records by age 17. How did you not lose yourself in the process of becoming the artist you are today? How have you kept a solid head on your shoulders, having found success at a young age?
Avril Lavigne: I am so lucky to have always been surrounded by great people and role models. When L.A. Reid signed me, he never once tried to change who I was. [He] told me to be myself and really trusted my vision. He gave me the confidence I needed to create. I've always kept my family close. A couple of them have been on the road with me, and they always keep it real. Having people around you who have your best interests at heart and have your back is more valuable than anything else.
Sari: How has your personal evolution gone hand in hand with your evolution as an artist?
Avril Lavigne: They both go hand in hand together. As I go through life and have different experiences, that comes out in my music. I only know how to write about my life, so my artistry grows with me.
Sari: How has writing lyrics changed for you from adolescence to adulthood? Did your songwriting process evolve? I know different albums meant different things to you or had different messages. At what points in your life were certain topics more relevant than others?
Avril Lavigne: On my first album, I wasn't thinking about my message. I was writing about my life, angst, and what I was going through as a teenager and still living at my parent's house. It was really incredible to see how my music resonated with my fans and how they related to it. I still keep that in mind when I am writing now. I try to keep a message of confidence and strength, and that is what I pull from. It is not intentional, but it is how I like to write, and I think it empowers people.
Sari: You earned praise from Shania Twain after you covered one of her songs. Is it possible that your next album could be a country album? Of course, Shania would be the obvious collaborator, but what other country music superstars do you dream of collaborating with?
Avril Lavigne: Never say never. I grew up listening to country, and I still love country. I have a truck, and I'll drive around in it listening to country. Shania was super influential on my career, and I sang with her on stage at 14 in Canada. We're both from small towns in Ontario, and she's kept in touch with me throughout the years. I'd love to do a country song or collab one day. I'm a massive Miranda Lambert and Maren Morris fan as well.
Sari: You just performed at the When We Were Young Festival. You're headlining shows all over the world. You're standing on stage, performing in front of massive crowds, fans singing your lyrics back to you. What does that feel like after all these years?
Avril Lavigne: It never gets old. There is no better feeling than seeing people get lost in the moment with you.
Here's To Never Growing Up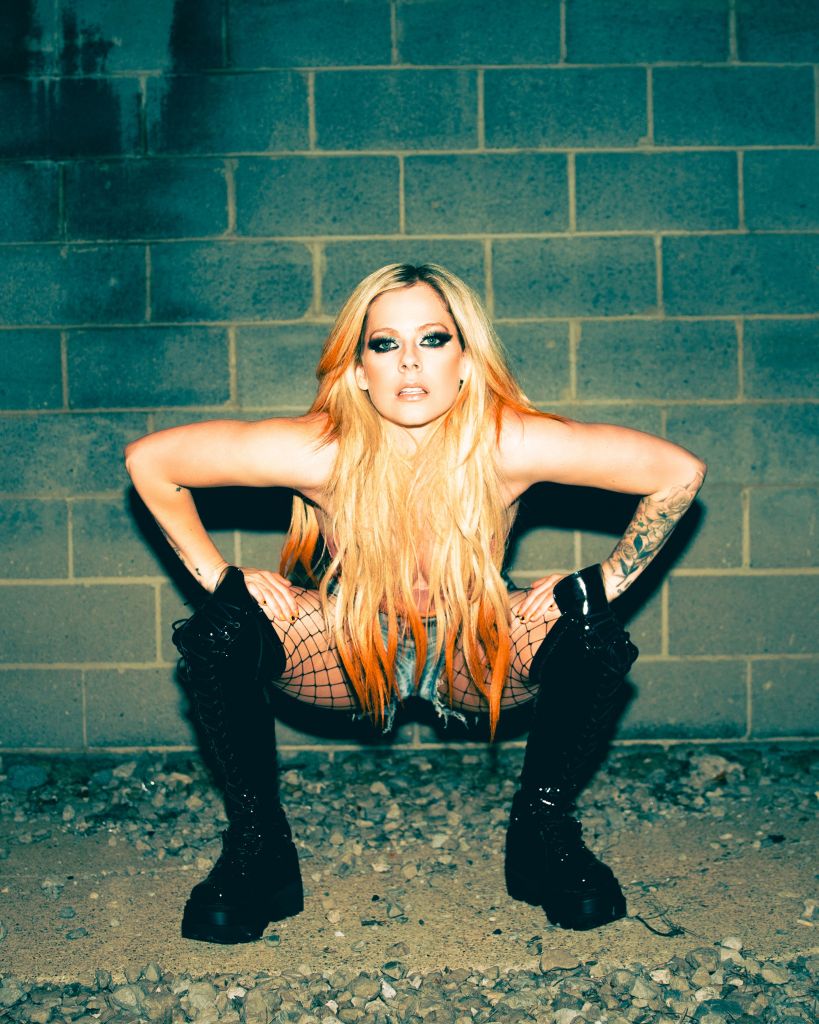 Sari: Let's discuss your collaboration with Yungblud on "I'm A Mess." People have been talking about this for over a year. You're good friends. How did this all unfold?
Avril Lavigne: He asked me to perform "I'm With You" on his Livestream over the pandemic, and we hit it off. He's so fun and amazing to hang out with. We worked together in the studio, and we wrote "I'm A Mess." It came together so quickly and naturally. But timing is everything. When it came time to talk about next releases, I knew this song had to come out. He is so insanely talented and has so much energy in the studio. We've been together in the studio a lot recently, working on other things too.
Sari: Tell me about the deluxe version of Love Sux. What makes it deluxe?
Avril Lavigne: I am adding the Single "I'm A Mess" with Yungblud. We have a beautiful acoustic of "Love Sux," "Bois Lie," "Love It When You Hate Me," and "Bite Me." As well as two songs no one has ever heard before.
Sari: Now you're signed with Travis Barker's label. What does it mean to you to work alongside him in this manner?
Avril Lavigne: I love everyone I work with, and that's what it's all about; enjoying yourself. I am so lucky to work with someone so talented and iconic, but I'm even luckier to call them my friend.
Sari: You recently got a star on the Hollywood Walk of Fame. Years ago, when you were 16, you took a photo lying down on another star. I love how you recreated the pose from your initial visit to L.A. First, do you remember whose star you took a photo on? Second, what was that feeling like being able to make that dream come true?
Avril Lavigne: The photo we took was on film, and the flash blurs out the name. We've tried so hard to figure out who it is! We think it might be Tom Cruise. That day was so magical, and it truly was a full-circle moment. It really helped encapsulate what the last 20 years of my career have been, and it's such an honor to have my name alongside so many greats.
Sari: You also just celebrated the 20th anniversary of your debut album, Let Go, which includes fan favorites like" Sk8er Boi" and "Complicated." The release of your expanded edition features six bonus tracks, including your newly-recorded studio version of "Breakaway." What was it like revisiting this album as an adult, and what did you learn about yourself in the process?
Avril Lavigne: That album has always stayed very present in my life, but re-recording "Breakaway" was a really cool experience. Kelly Clarkson did such a great job with it, but that song comes from a very special time in my life, so it felt right to put it on the record.
Sari: Looking back at where you started, how has the industry changed, and how has it affected you and your songwriting, especially with the growth of social media?
Avril Lavigne: The industry has changed a lot. People buy fewer albums and stream more than ever. Social media obviously plays a huge part in it, and I enjoy using it when it comes naturally to me. But my whole life, music has come first. The music has to be great before anything else matters.
My Happy Ending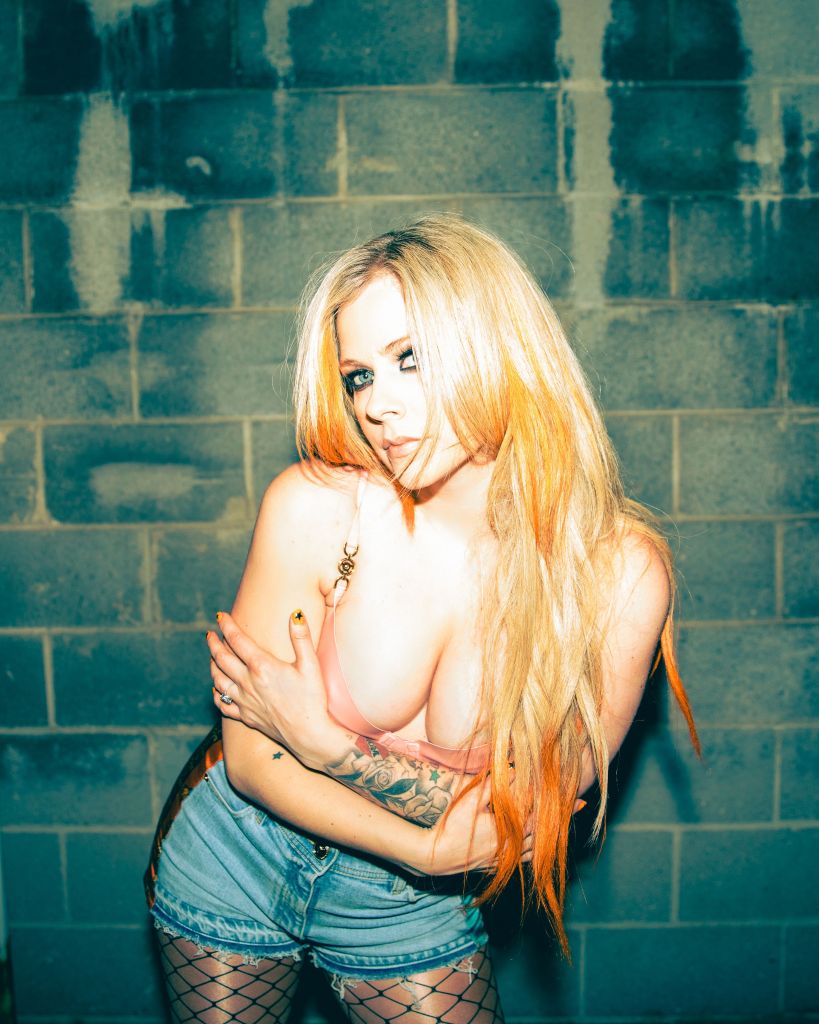 Sari: You're not only known for setting trends in music but style as well. You just did this collection with Killstar. Do you feel like style has been another outlet of expression for you? And how does the way you express yourself translate into your designs?
Avril Lavigne: It absolutely is. I dress how I feel. The Killstar collection was super cool because I got to dive into things with them and design it in a cool way for other people to wear. We wanted to make things rock and roll but sophisticated and elegant.
Sari: You've designed clothes, developed fragrances, acted, been nominated and won over 100 awards. What's something you haven't done yet that you'd like to do?
Avril Lavigne: I'd love to have my own cooking show one day! That would be so fun.
Sari: As a female artist representing the music of the 2000s, you're paving the way for other females now. What do you hope your journey teaches them?
Avril Lavigne: I hope they learn that you don't need to be like anyone else to be great. You can only be yourself, so be the baddest person you can be.
Sari: How do you think you have helped shape the landscape of the industry?
Avril Lavigne: The whole time, I've just tried to keep it real.
Sari: What advice would the Avril of today give to teenage Avril?
Avril Lavigne: I would tell her to take it all in and enjoy the ride. Things will get pretty crazy.
Sari: Looking into the future, what does the new era of Avril look like? Sound like?
Avril Lavigne: I'm working on new music in the studio, and you're going to have to wait and hear it. I am also working on making "Sk8er Boi" a film, a documentary, and other creative ventures.
Sari: You're known for not following trends, but everyone loves to make what you do into a trend. What's one trend you wish you could pass on to others?
Avril Lavigne: I was talking the other day; I would love for the jelly bracelets to come back [laughs].
I'm With You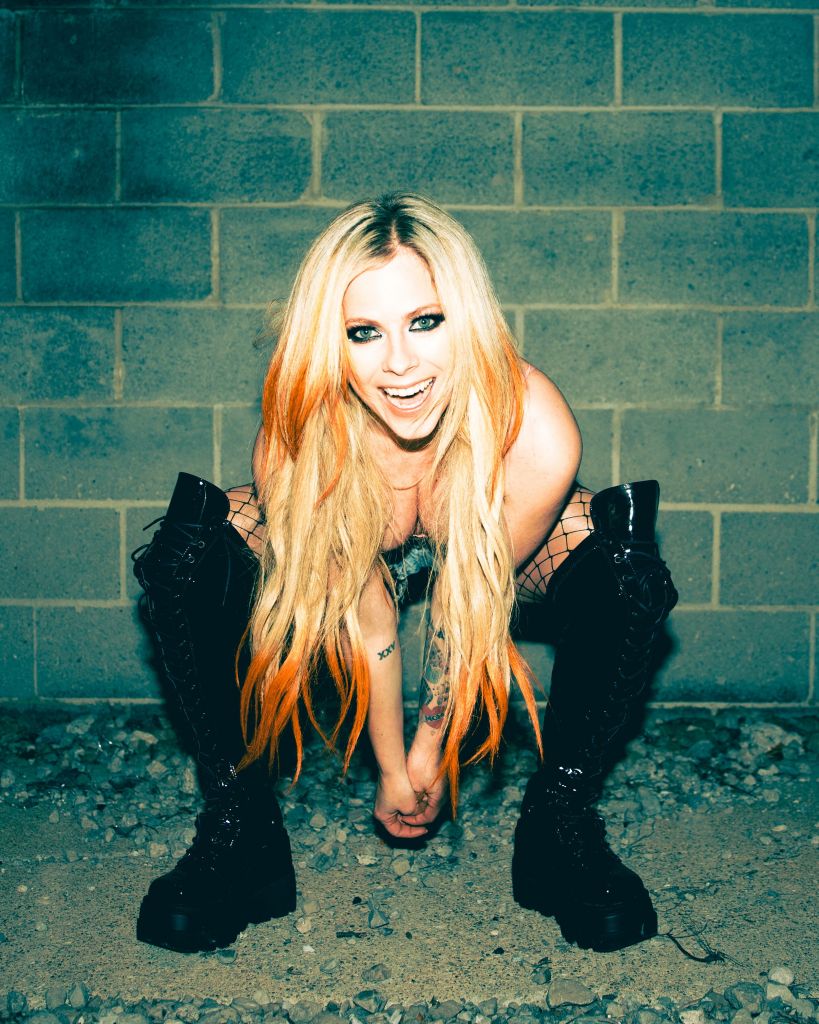 Favorite tattoo you have:
My first tattoo because it was the Sk8er Boi star on my wrist. I got it when I was 19
One tattoo you regret getting:
The astrological libra shit on my right arm
Next Tattoo:
I think I'm done [laughs]. I finally balanced it all out and made a half sleeve. If I start more, I'll need more, and then it will just go on and on, so I'm all good!
Guilty pleasure karaoke song or song you like to sing when you're alone:
Anything Spice Girls
Album (by another artist) you'd rank No. 1 on your list:
Jagged Little Pill – Alanis Morisette
Last show you binge-watched:
"Carpool Karaoke"
Career milestone that made you most proud:
MTV Award for Best New Artist
One fun fact fans would be surprised to learn about you:
I am a really good cook. And I paint.
Writer: Sari Cohen
Photographer: Nathan James
Stylist: Sam Woolf
Glam: Julia Dantas
Published in INLOVE Magazine Winter 2023